---
Alien³ (1992)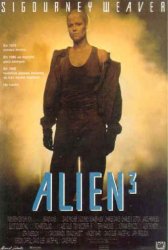 Starring: Sigourney Weaver, Charles S. Dutton, Charles Dance, Ralph Brown, Brian Glover, Danny Webb, Pete Postlethwaite, Lance Henriksen
Director: David Fincher
Release Date:

May 22nd, 1992
Release Date:

21st August, 1992
Synopsis: After escaping from the alien planet, the ship carrying Ellen Ripley crashes onto a remote and inhabited ore refinery. While living in the ore refinery until she is rescued by her employers, Ripley discovers the horrifying reason for her crash: An alien stowaway. As the alien matures and begins to kill off the inhabitants, Ripley is unaware that her true enemy is more than just the killer alien.
Status:
About the Movie
Alien 3 (styled as Alien³) is a 1992 science fiction horror film, the third installment in the Alien franchise, and the first film directed by David Fincher. It is preceded by Ridley Scott's Alien and James Cameron's Aliens and is followed by Jean-Pierre Jeunet's Alien Resurrection.
The story has an escape pod from the Colonial Marine starship Sulaco in Aliens crash-landing on a refinery/prison planet, killing everyone on board except Lieutenant Ellen Ripley (Sigourney Weaver). Unknown to Ripley, an Alien egg was aboard the ship, and is born in the prison and begins a killing spree. Ripley later discovers there is also an alien growing inside her.
Alien 3 had a difficult production, with various screenwriters and directors getting involved in the project, and shooting even started without a finished script. Upon completion, the studio dismantled and reworked it without Fincher's consent, including releasing a teaser trailer that suggested the film would take place on Earth. The film was released to mixed reviews, and while not very successful at the United States box office, it earned over $100 million outside of North America.
David Fincher was brought into the project very late in its development, after a proposed version written by Vincent Ward (What Dreams May Come) at the helm fell through. Fincher had little time to prepare, and the experience making the film proved agonizing for him, as he had to endure incessant creative interference from the studio. The film was Fincher's debut in big budget film making, and at the relatively young age of 27 he had to shoot the film without having a definite script. The added weight was also to create a film worthy of the work of the two revered directors that had gone before him, James Cameron and Ridley Scott.
---
'Alien³' Stars
Alien Quadrilogy, Brian Glover, Charles Dance, Charles S. Dutton, Danny Webb, David Fincher, Lance Henriksen, Pete Postlethwaite, Ralph Brown, Sigourney Weaver
---
'Alien³' Movie Links

Alien³ on IMDb