---
Battle for Terra (2007)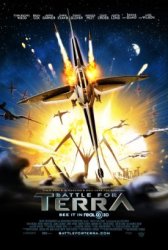 Starring: Evan Rachel Wood, Brian Cox, Luke Wilson, David Cross, Justin Long, Amanda Peet, Dennis Quaid, Chris Evans, James Garner
Director: Aristomenis Tsirbas
Release Date:

May 1st, 2009
Release Date:

12th February, 2010
Synopsis: Mala is a precocious girl living on the beautiful planet Terra, a place where peace and tolerance are celebrated. Unbeknownst to Mala and her fellow Terrians, the last inhabitants of Earth have exhausted the resources of their planet and those of three others, and are now searching for a new home. This Earthforce has discovered that the use of a Terraformer will make Terra habitable for humans but poisonous for Terrians. When the Earthlings embark on a hostile invasion of Terra, Mala's father, Roven, is kidnapped. Hoping to save her father, Mala captures and hides a crashed human pilot named Jim.
Status:
Battle for Terra Movie Trailer
About the Movie
Battle for Terra (known as Terra before a name-change for the 2009 US release) is a 2007 computer animated science fiction film, based on the short film, about a peaceful alien planet which faces destruction from colonization by the displaced remainder of the human race. The film was directed by Aristomenis Tsirbas of MeniThings Productions, and features the voices of Brian Cox, Luke Wilson, and David Cross among others. It premiered on September 8, 2007 at the Toronto International Film Festival. It was widely released in the United States on May 1, 2009. The film was originally shot in 2D but was made so that a second camera could be added to the film. After the film was shown at festivals and distributors showed an interest in it a small team was hired to render the entire film again from the perspective of the second camera for a true 3D effect. Terra also means Earth in Latin.
It won the Grand Prize for Best Animated Feature at the 2008 Ottawa International Animation Festival.
---
'Battle for Terra' Stars
Amanda Peet, Aristomenis Tsirbas, Brian Cox, Chris Evans, David Cross, Dennis Quaid, Evan Rachel Wood, James Garner, Justin Long, Luke Wilson
---
'Battle for Terra' Movie Links

Official Battle for Terra Movie Website


Battle for Terra on IMDb