---
Black Swan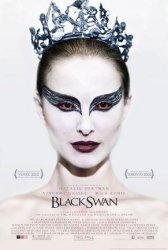 Starring: Natalie Portman, Mila Kunis, Winona Ryder, Vincent Cassel, Ksenia Solo, Sebastian Stan
Director: Darren Aronofsky
Release Date:

December 3rd, 2010
Release Date:

21st January, 2011
Running Time: 108 Mins
Synopsis: Nina is a ballerina in a New York City ballet company whose life, like all those in her profession, is completely consumed with dance. She lives with her obsessive former ballerina mother who exerts a suffocating control over her. When artistic director Thomas Leroy decides to replace prima ballerina Beth MacIntyre for the opening production of their new season, Swan Lake, Nina is his first choice. But Nina has competition: a new dancer, Lily, who impresses Leroy as well. Swan Lake requires a dancer who can play both the White Swan with innocence and grace, and the Black Swan, who represents guile and sensuality.
Status:
titlexxx - Black Swan Movie Trailer
About the Movie
Black Swan is a 2010 American psychological thriller film directed by Darren Aronofsky. The film stars Natalie Portman and Mila Kunis as ballet dancers in a New York City production of Swan Lake. The production requires a ballerina to play both the innocent White Swan and the sensual Black Swan. Nina (Portman) fits for the White Swan and Lily (Kunis) fits for the Black Swan. When the two compete for the parts, Nina finds a dark side of herself.
Aronofsky conceived the premise by connecting his viewings of Swan Lake with an unrealized screenplay about understudies and the notion of being haunted by a double. The director also considered Black Swan a companion piece to his previous film The Wrestler, with both films' worlds involving demanding performances for different kinds of art. He and Portman first discussed the project in 2000, and after a brief attachment to Universal Pictures, Black Swan was produced in New York City in 2009 under Fox Searchlight Pictures. Portman and Kunis trained in ballet for months. Notable figures from the ballet world helped with film production to shape the ballet presentation. The film premiered as the opening film for the 67th Venice International Film Festival on September 1, 2010. The film will have a limited release on December 3, 2010.
---
Movie Reviews
Movie Review from EmpireOnline.com

Darren Aronofsky has made no secret of the fact that Black Swan is very much a companion-piece to his 2008 Oscar-contender The Wrestler. And, despite its seemingly more refined and rarefied subject-matter, so it proves: these two movies indeed have more in common with each other than Black Swan does with, say, Powell and Pressburger's ne plus ultra of ballet movies, The Red Shoes, or even the similarly themed All About Eve.

Read the Full Movie Review at EmpireOnline.com
Movie Review from TotalFilm.com

Virginal ballet dancer Nina (Natalie Portman) wins the lead in Tchaikovsky's Swan Lake. But she might just lose it again if she can't find a way to offset her technically perfect White Swan with a Black Swan that breathes sex, bile and chaos in big, ragged gulps. Pirouetting about Nina are people who help, hinder and ultimately unhinge her – though a little lunacy might be just what she needs right now. Artistic director Vincent Cassel hectors and (sexually) harasses. New arrival Mila Kunis offers booze, ecstasy and her tattooed body.

Read the Full Movie Review at TotalFilm.com
Movie Review from Hollywood.com

Set within the highly competitive and secluded world of a New York City ballet company, Black Swan stars Natalie Portman as Nina, an emotionally fragile, perfectionist who still lives with her overprotective mother (Barbara Hershey) on Manhattan's Upper West Side. When the company's director, Thomas Leroy (Vincent Cassel), decides to "retire" the company's aging star (Winona Ryder) in order to find a new soloist for his upcoming production of Swan Lake, Nina seems a shoe-in for the part of the timid and virginal White Swan.

Read the Full Movie Review at Hollywood.com
Movie Review from Guardian.co.uk

Fantastically deranged at all times, Darren Aronofsky's ballet psycho-melodrama is a glittering, crackling, outrageously pickable scab of a film. At its centre is young ballerina Nina Sayers, played by Natalie Portman. She is beautiful, vulnerable, sexually naive and susceptible to mental illness. To play the role of a lifetime, Nina must delve deep into her own dark side. As her hallucinations and anxiety attacks escalate in tandem with her progress in rehearsal, artistic breakthrough fuses with nervous breakdown.

Read the Full Movie Review at Guardian.co.uk
Movie Review from TimeOut.com

It's best to switch off the more sensible side of your mind, along with any idea that you're going to experience a documentary-style portrait of the world of ballet, before encountering Darren Aronofsky's 'Black Swan'. It's a film that really only works if you let yourself be swirled up, like its main character, in a storm of hysteria, paranoia and tears: it's too impulsive and emotional to be picked apart at the level of logic and too ludicrous to exist in a world other than its own. It's huge fun, but only if you're willing to swallow its more bonkers excesses.

Read the Full Movie Review at TimeOut.com
Movie Review from Movies.com

Darren Aronofsky, who most recently directed Mickey Rourke to an Oscar nomination in the gritty drama The Wrestler, returns to the arena of performers and body horror with this darkly sensual thriller set in the world of ballet. With an eye for the precise and demanding milieu of professional dance – tutus and cracked toenails and bitter jealousies galore – he builds an increasingly claustrophobic world around Portman's delicately nuanced performance, ratcheting up the tension with an escalating series of disorienting incidents filtered through his heroine's eyes.

Read the Full Movie Review at Movies.com
---
'Black Swan' Stars
Darren Aronofsky, Ksenia Solo, Mila Kunis, Natalie Portman, Sebastian Stan, Vincent Cassel, Winona Ryder
---
'Black Swan' Movie Links

Black Swan on IMDb


Black Swan on Wikipedia