---
Body of Lies (2008)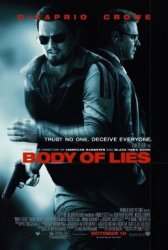 Starring: Leonardo DiCaprio, Russell Crowe, Mark Strong, Golshifteh Farahani, Oscar Isaac, Simon McBurney
Director: Ridley Scott
Release Date:

October 10th, 2008
Release Date:

21st November, 2008
Synopsis: Based on Washington Post columnist David Ignatius' 2007 novel about a CIA operative, Roger Ferris, who uncovers a lead on a major terrorist leader suspected to be operating out of Jordan. When Ferris devises a plan to infiltrate his network, he must first win the backing of cunning CIA veteran Ed Hoffman and the collegial, but perhaps suspect, head of Jordanian intelligence. Although ostensibly his allies, Ferris questions how far he can really trust these men without putting his entire operation, and his life, on the line.
Status:
Body of Lies Movie Trailer
About the Movie
Body of Lies is a 2008 American spy film based on the novel of the same name by David Ignatius set in context of the Middle East and the war on terror, unfolding the story of three men battling a terrorist organization, and each other.
---
Movie Reviews
Movie Review by Marty Meltz
Quality – 7 out of 10
A Middle East spy thriller tense without suspense.
That is, until the end. A film highly attuned to current events in the region, its personalities, poignant dialogue and compelling mean streets and grand desert vistas dominate an only moderately interesting plot. Urgency, sometimes mortal, being the driving force over all the interactions, the constant interactions between individuals who trust not a word the other is saying generate electricity that draws you in by short and long arcs. With deftly chosen scripting of the words of each key character, you can be riveted. After awhile, however, you're quite aware that the lack of a gripping story momentum from one major scene to the next can, in spite of the drama going on between personalities, get a mite boring.
Can anyone put a value on trust in the mortally dangerous world of ace-of-aces CIA agent Roger Ferris (Leonardo DiCaprio). Yes, he's the greatest going but no, his life as an intriguer on the desert sands of the Middle East is worthless without his cyber lifeline to CIA veteran Ed Hoffman (Russell Crowe) who has a drone hovering over him at all times to send his imagery back to Hoffman's laptop in the D.C. suburbs. Hoffman is tracking a newly arising terrorist leader who has already chalked up a successful string of bombings in the face of the most sophisticated techniques of the CIA. The challenge now is to lure the terrorist out into the open. This means — gulp! — Ferris must infiltrate into this foreboding world, one so perilous that a man never makes the same mistake once. Especially if he's an American in an all-Arab environment.
As Ferris approaches the target, his scheme is to create a fictitious rival terror organization whose atrocities and phantom leader are supposed to attract the real villain out for apprehension. Ferris' indispensable contact is the canny, urbane and brilliant Jordanian chief of security Hani Salaam (Mark Strong) who believes nobody.
Soon enough, the wounded Ferris, in the hospital, is cared for pretty nurse Aisha (Iranian actress Golshifteh Farahani). Ferris and Aisha will navigate through the streets stared and glared at by the Muslim culture around them as they sip tea in a public cafe.
High point comes when she's kidnapped by terrorists and Ferris wants to hand himself over to them in exchange for her. At the meeting point out on the desert, with the bad guys well aware they're being tracked by a drone, they deliberately create a sand "smokescreen" that enables five different vehicles to spread out in five different directions, thus making it impossible to pick the right one.
Russell Crowe, his weight especially plumped up to give him a CIA bureaucrat's persona, is almost chillingly logical and cynical at times and Leonardo DiCaprio is amazingly consistent in his energy, if a bit monotonous at times.
You won't go wrong with this one. All of the Middle-easterner roles are inherently powerful and the details are very illuminating. We all probably need this in these times.

Read More Movie Reviews at Marty at the Movies
Movie Review by Nana Kwame Aboagye
In "Body of Lies" we are drawn into the world of espionage and covert operations. Leonardo DiCaprio plays Roger Ferris, a CIA agent on the trail of terrorist big fish who is the head of a very big terrorist network. Russell Crowe stars as Ed Hoffman, the boss of Dicaprio or the operations director.
This movie takes us into the real world of Intelligence Agencies. It gives a vivid account of how covert operations are run. It is a totally different world. In the world of espionage and covert operations the end is more important than the means most of the time. The outwitting of members of the same intelligence agency or cooperating and friendly intelligence agencies with the same goal in mind may be justified if it has the potential of achieving the desired outcome. This is played out in the movie.
DiCarpio and Crowe have different views as to how the operation should be run. This leads to disputes between them. The man on the ground Dicaprio seems to be outwitted and kept in the dark as to the strings that his boss Russell Crowe is pulling which may impact significantly on the operation.
This film is certainly one of the finest to come out this autumn. It live up to it name "Body of Lies" because it is full of lies, deception and trickery. These are the "values" on which this film is based. It is adapting the "bad guy's" strategy to fight him and beat him at his own game.
It is full of action, suspense and horror. If some movies do not have nice ending, then certainly not "Body of Lies" it has a nice ending. Its ending is actually a nice way to end a nice and interesting movie full of suspense, espionage and action.
With respect to the acting, there is no need to stress on this point because with Russell Crowe and Leonardo DiCaprio starring in the movie, the acting will be awesome. It is impossible for them to underperform. It is surely not going to happen.
---
'Body of Lies' Stars
Golshifteh Farahani, Leonardo DiCaprio, Mark Strong, Oscar Isaac, Ridley Scott, Russell Crowe, Simon McBurney
---
'Body of Lies' Movie Links

Official Body of Lies Movie Website


Body of Lies on IMDb