---
Children of Men (2006)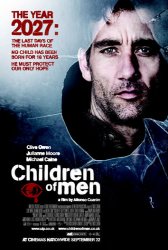 Starring: Clive Owen, Julianne Moore, Michael Caine, Charlie Hunnam, Chiwetel Ejiofor, Danny Huston, Pam Ferris
Director: Alfonso Cuarón
Release Date:

December 25th, 2006
Release Date:

22nd September, 2006
Synopsis: The world's youngest citizen has just died at 18, and humankind is facing the likelihood of its own extinction. Set in and around a dystopian London fractious with violence and warring nationalistic sects, Children of Men follows the unexpected discovery of a lone pregnant woman and the desperate journey to deliver her to safety and restore faith for a future beyond those presently on Earth.
Status:
Children of Men Movie Trailer
About the Movie
Children of Men is a 2006 British dystopian science fiction film co-written and directed by Alfonso Cuarón. The Strike Entertainment production was loosely adapted from P. D. James's 1992 novel of the same name by Cuarón and Timothy J. Sexton with help from David Arata, Mark Fergus and Hawk Ostby. It stars Clive Owen, Julianne Moore, Pam Ferris, Claire-Hope Ashitey, Chiwetel Ejiofor, and Michael Caine.
Set in the United Kingdom of 2027, the film explores a grim world in which two decades of global human infertility have left humanity with less than a century to survive. Societal collapse, terrorism, and environmental destruction accompany the impending extinction. Meanwhile, the United Kingdom—perhaps the last functioning government—persecutes a seemingly endless wave of illegal immigrant refugees seeking sanctuary. In the midst of this chaos, Theo Faron (Clive Owen) must find safe transit for Kee (Claire-Hope Ashitey), a pregnant African "fugee" (refugee).
The film was released on 22 September 2006 in the UK, 19 October 2006 in Australia and on December 25, 2006 in the U.S., critics noting the relationship between the Christmas opening and the film's themes of hope, redemption, and faith.
Children of Men was only a moderate financial success, but attracted positive reviews from critics and acclaim from filmgoers. The film was recognised for its achievements in screenwriting, cinematography, art direction, and innovative single-shot action sequences, receiving three Academy Award nominations and winning two BAFTA awards. It has gone on to take many accolades after its release, with many critics and associations recognizing it as a contemporary sci-fi classic.
---
'Children of Men' Stars
Alfonso Cuarón, Charlie Hunnam, Chiwetel Ejiofor, Clive Owen, Danny Huston, Julianne Moore, Michael Caine, Pam Ferris
---
'Children of Men' Movie Links

Official Children of Men Movie Website


Children of Men on IMDb