---
Cowboys & Aliens (2011)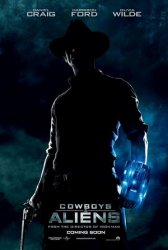 Starring: Olivia Wilde, Harrison Ford, Daniel Craig, Sam Rockwell, Noah Ringer, Paul Dano
Director: Jon Favreau
Release Date:

July 29th, 2011
Release Date:

17th August, 2011
Running Time: 118 Mins
Synopsis: The Old West.. where a lone cowboy leads an uprising against a terror from beyond our world. 1873. Arizona Territory. A stranger with no memory of his past stumbles into the hard desert town of Absolution. The only hint to his history is a mysterious shackle that encircles one wrist. What he discovers is that the people of Absolution don't welcome strangers, and nobody makes a move on its streets unless ordered to do so by the iron-fisted Colonel Dolarhyde. It's a town that lives in fear. But Absolution is about to experience fear it can scarcely comprehend as the desolate city is attacked by marauders from the sky.
Status:
titlexxx - Cowboys & Aliens Movie Trailer
About the Movie
Cowboys & Aliens is a 2011 American science fiction Western film starring Daniel Craig, Harrison Ford, and Olivia Wilde. The film, directed by Jon Favreau, is based on the 2006 graphic novel of the same name created by Scott Mitchell Rosenberg. Cowboys & Aliens was released in the United States and Canada on July 29, 2011, and in other countries on ensuing weekends.
---
Movie Reviews
Movie Review from EmpireOnline.com

Cowboys & Aliens is the second of two mavericks among 2011's summer-blockbuster herd — the other being its Paramount-funded, Spielberg-produced sibling Super 8 (which, interestingly, also centres around retro-smalltown alien abduction). While based (loosely) on a comic book, Cowboys & Aliens hardly has the following Marvel-movie newcomers Thor and Captain America enjoy, and even poor old Green Lantern was a better-known title.

Read the Full Movie Review at EmpireOnline.com
Movie Review from TotalFilm.com

2011 has already given us an embarrassment of chalk/cheese couplings. Now comes Cowboys & Aliens, saddle-bagged with expectation that this could be /the/ essential mash-up of the year. Not quite. Fortunately, it easily clears the low bar set for sci-fi western blockbusters by Wild Wild West (Worst, Worst Picture at the 2000 Razzies). It's professional, respectable, watchable. But something's missing. A bigger wow factor. A few more kinks and quirks to call its own.

Read the Full Movie Review at TotalFilm.com
Movie Review from Hollywood.com

As with seemingly every other tentpole release to hit the multiplex this summer, the action thriller Cowboys & Aliens is based on a comic book – albeit a lesser-known one. It's directed by Jon Favreau, whose previous comic-book adaptations, Iron Man and Iron Man 2, proved how much better those films can be when they're grounded in character. Unfortunately, his latest effort is grounded not in character but a hook, an alt-history scenario best expressed in the language of the average twelve-year-old.

Read the Full Movie Review at Hollywood.com
Movie Review from Guardian.co.uk

Many of us had to live through the dark, dark days of Wild, Wild West, Barry Sonnenfeld's mash-up retro-futurist Western from 1999. We flinched; we winced; we watched as the terrible Wild-West-plus-sci-fi idea crashed and burned spectacularly, and the pure wood performances of Kevin Kline and Will Smith went up in smoke. A roughly similar nightmare has now arisen. Something that might have been frankly better left as a throwaway joke, or a doodle on an executive's notepad, has actually made it through the system as a full-length feature film, directed with a not-very-light touch by Jon Favreau.

Read the Full Movie Review at Guardian.co.uk
Movie Review from TimeOut.com

'Iron Man' director Jon Favreau's latest actioner needs no introduction other than the title – and that's one of the best things going for it. The idea of aliens descending on a dusty Wild West town has widespread popcorn appeal and, with a heavy sprinkling of big name actors, 'Cowboys & Aliens' gets off to a promising start. Daniel Craig plays the strong, silent cowboy who wakes in the New Mexico desert with no memory and a chunky metal bracelet on his arm – the first clue to an impending alien invasion.

Read the Full Movie Review at TimeOut.com
Movie Review from Movies.com

If you were curious about this movie because you thought there might be more to it than the obvious, don't overthink it--the title truly is all you're going to get. If you're a stickler for detail, the movie should have been called Cowboys and Aliens and a Weird Lady and Misunderstood Indians. This film, much like the gigantic action movies of the recent past, is heavy on cool computer animation and explosions, but not much else.

Read the Full Movie Review at Movies.com
Movie Review from Telegraph.co.uk

The title of Cowboys & Aliens makes it sound like a Snakes on a Plane one-liner comedy. Cowboys? Hanging out or knocking the bejeesus out of aliens? Surely, this has to be some kind of spoof. But for the first and best half of Jon Favreau's deviant Western, things are kept pretty straight. Set in 1875, a stranger (Daniel Craig) arrives in an Arizonan desert town called Absolution with no memory of how he got there.

Read the Full Movie Review at Telegraph.co.uk
---
'Cowboys & Aliens' Stars
Daniel Craig, Harrison Ford, Jon Favreau, Noah Ringer, Olivia Wilde, Paul Dano, Sam Rockwell
---
'Cowboys & Aliens' Movie Links

Official Cowboys & Aliens Movie Website


Cowboys & Aliens on IMDb


Cowboys & Aliens on Wikipedia