---
Due Date (2010)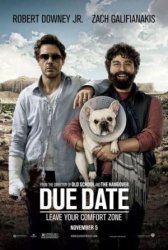 Starring: Robert Downey Jr., Zach Galifianakis, Michelle Monaghan, Juliette Lewis, Danny McBride, Jamie Foxx, Alan Arkin
Director: Todd Phillips
Release Date:

November 5th, 2010
Release Date:

5th November, 2010
Synopsis: Peter Highman is an expectant first-time father whose wife's due date is a mere five days away. As Peter hurries to catch a flight home from Atlanta to be at her side for the birth, his best intentions go completely awry when a chance encounter with aspiring actor Ethan Tremblay forces Peter to hitch a ride with Ethan--on what turns out to be a cross-country road trip that will ultimately destroy several cars, numerous friendships and Peter's last nerve.
Status:
About the Movie
Due Date is an upcoming American comedy road film directed by Todd Phillips and starring Robert Downey, Jr., Zach Galifianakis, Michelle Monaghan and Jamie Foxx. Filming is in post-production and a release is planned on November 5, 2010. This movie was filmed in Las Cruces, New Mexico and around the Atlanta, Georgia area.
This is the second time that Downey will be reuniting with five actors. Downey previously co-starred with Michelle Monaghan from 2005′s Kiss Kiss Bang Bang, Jamie Foxx from 2009′s The Soloist, Juliette Lewis from 1994′s Natural Born Killers, Danny McBride from 2008′s Tropic Thunder, and Alan Arkin from 2004′s Eros.
---
Movie Reviews
Movie Review from EmpireOnline.com

Watching the latest homage-slash-imitation reminds one afresh how good a balancing act between slapstick and sympathy John Hughes' Planes, Trains And Automobiles really was. While strikingly similar in concept, Due Date aspires to be a darker, edgier variation on the odd-couple-on-a-road-trip theme. If one reads "darker" as crueller and meaner, and "edgier" as not actually all that funny, this scores. One is tempted to feel snotty (in fact, let's just say it, unlikable ) Peter (Robert Downey Jr.) invites what is coming to him when he gets pissy with a US Air Marshal. Really, dude? You really want to take that tone?

Read the Full Movie Review at EmpireOnline.com
Movie Review from TotalFilm.com

An uptight thin bloke and a messy fat bloke travel across America, encountering an array of disasters on their way back to see thin bloke's wife. John Hughes' 1987 comedy Planes, Trains And Automobiles was a blend of bromance, odd-couple comedy and road movie, a warm, smart star vehicle juggling gross-out gags with slapstick, rapid-fire scripting with sweetness and poignancy… So too Due Date. Todd Phillips' latest cleaves close to Hughes' template, from stolen wallets to obstructive desk clerks, car mishaps to awkward sleeping arrangements. Swap Steve Martin for Robert Downey Jr, John Candy for Zach Galifianakis, a dead wife for a dead dad and Thanksgiving for an imminent birth and you're there.

Read the Full Movie Review at TotalFilm.com
Movie Review from Hollywood.com

In his new film Due Date, director Todd Phillips (Old School, The Hangover) stages a rather audacious cinematic experiment, placing two enormously talented actors, Robert Downey Jr. and Zach Galifianakis, on a mostly deserted island, handing them an assortment of blunt and broken tools, and charging them with constructing a free-standing, fully-functioning Hollywood comedy. To his credit, Phillips was at least considerate enough to supply his comic Crusoes with a detailed blueprint. An odd-couple/road trip movie hybrid, Due Date unapologetically mimics Planes, Trains and Automobiles, one of the John Hughes' rare "grown-up" comedies.

Read the Full Movie Review at Hollywood.com
Movie Review from Guardian.co.uk

Having scored a commercial smash with his fratboy comedy The Hangover, and with Hangover 2 in the works – currently testing the boundaries of hip irony with a now abandoned plan to give Mel Gibson a cameo – hopes were high for this new movie by Todd Phillips. Robert Downey Jr and Zach Galifianakis play uptight architect Peter Highman and dopey wannabe actor Ethan Tremblay. This odd couple are forced to take a road trip together in horribly uncomfortable proximity, desperate to get back to Los Angeles in time for Peter's wife Sarah (Michelle Monaghan) to have her baby – much like Steve Martin and John Candy in Planes, Trains and Automobiles.

Read the Full Movie Review at Guardian.co.uk
Movie Review from TimeOut.com

Two mismatched guys – one wealthy and uptight, the other poor, portly and overfriendly – are thrown together on an impromptu cross-country road trip. At first they hate each other, but after a long series of misunderstandings and misadventures the two reach a grudging acceptance, even affection. Yep, you've gotta love 'Planes, Trains and Automobiles'. To be fair, 'The Hangover' director Todd Phillips goes out of his way to distance himself from John Hughes's well-liked holiday romp, largely by making 'Due Date' a lot louder, ruder and more violent. But it doesn't work: every time we look at Robert Downey Jr's highly strung Peter, we remember how good Steve Martin was in a near-identical role.

Read the Full Movie Review at TimeOut.com
Movie Review from Movies.com

Having established that this movie has no good reason to exist beyond extending Zach Galifianaki's recent brand ascendancy, it's as good as you could want a useless entertainment exercise to be. It's all his show, from start to finish. Downey plays the exhausted angry foil for Galifianakis's odd, brain-scrambled doofus and it's his presence that keeps it funny all the way through. You won't have two thoughts about it when it's over but some day it'll show up again on cable, you'll sink into the couch and laugh at it like you haven't watched it already. You'll probably polish off a whole bag of chips doing that, too.

Read the Full Movie Review at Movies.com
---
'Due Date' Stars
Alan Arkin, Danny McBride, Jamie Foxx, Juliette Lewis, Michelle Monaghan, Robert Downey Jr., Todd Phillips, Zach Galifianakis
---
'Due Date' Movie Links

Due Date on IMDb