---
Faster (2010)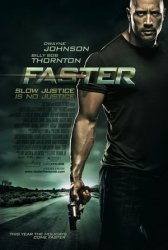 Starring: Dwayne Johnson, Maggie Grace, Jennifer Carpenter, Carla Gugino, Billy Bob Thornton, Tom Berenger
Director: George Tillman Jr.
Release Date:

November 24th, 2010
Release Date:

25th March, 2011
Running Time: 98 Mins
Synopsis: After 10 years in prison, Driver has a singular focus - to avenge the murder of his brother during the botched bank robbery that led to his imprisonment. Now a free man with a deadly to-do list in hand, he's finally on his mission... but with two men on his trail - a veteran cop just days from retirement, and a young egocentric hitman with a flair for the art of killing and a newfound worthy opponent.
Status:
titlexxx - Faster Movie Trailer
About the Movie
Faster is an upcoming 2010 American action thriller drama film, directed by George Tillman, Jr. and written by brothers Tony Gayton and Joe Gayton. It stars Dwayne Johnson, Billy Bob Thornton, Carla Gugino, Moon Bloodgood, Oliver Jackson-Cohen, and Maggie Grace. It is scheduled for release on November 24, 2010.
---
Movie Reviews
Movie Review from EmpireOnline.com

Dwayne Johnson talked a lot during the making of this '70s action throwback about how he was itching to get back to more muscular movies after his family comedy run. Sadly, this isn't quite the vehicle he hoped it would be. Largely inert, it finds Johnson anchoring a pedestrian revenge thriller about a man tracking down and blowing large chunks out of the people who killed his brother and set him up during a heist. Johnson does his best impression of a monosyllabic man mountain while Billy Bob Thornton largely looks tired as the cop on his trail.

Read the Full Movie Review at EmpireOnline.com
Movie Review from TotalFilm.com

Director George Tillman Jr. is 'known' mostly for 1997's Soul Food and Biggie Smalls biopic Notorious. Which makes him an odd choice to revitalise Dwayne 'The Rock' Johnson's reputation as an action bruiser after a run of sugary fare. Luckily, both director and star follow the blueprint of all the second-tier '70s revenge-thrillers that Faster bases itself on, offering up a teeth-gritting, eye-gouging, retro-fitted kill-fest that all but erases memories of Johnson in a tutu in Tooth Fairy.

Read the Full Movie Review at TotalFilm.com
Movie Review from Guardian.co.uk

Crashingly loud and smugly violent, Faster is a petrolhead revenge thriller starring Dwayne "The Rock" Johnson as a getaway driver who took the rap for a bungled bank robbery. Now he's out of jail – and back at the wheel of his 1971 Chevy Malibu SS, roaring around looking for payback against the guys who set him up and murdered his adored brother. Billy Bob Thornton and Carla Gugino are the cops on his trail and British newcomer Oliver Jackson-Cohen is the pretty boy hitman and Jude-Law-soundalike hired by the villains to take Johnson down.

Read the Full Movie Review at Guardian.co.uk
Movie Review from Movies.com

Faster is The Good, the Bad and the Ugly with muscle cars and The Rock – or at least, it desperately wants to be, hence the uber-obvious nods to Westerns and gunslingers, right down to the usage of Ennio Morricone's iconic whistling theme in not one but two separate scenes. But take away director George Tillman, Jr.'s feeble attempt at genre play and there's still not much to hang your hat on in this modern-day revenge flick. Characters talk a lot about family, forgiveness, the sins of the father and all that.

Read the Full Movie Review at Movies.com
---
'Faster' Stars
Billy Bob Thornton, Carla Gugino, Dwayne Johnson, George Tillman Jr., Jennifer Carpenter, Maggie Grace, Tom Berenger
---
'Faster' Movie Links

Official Faster Movie Website


Faster on IMDb


Faster on Wikipedia