---
From Russia with Love (1963)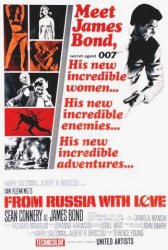 Starring: Sean Connery, Daniela Bianchi, Pedro Armendáriz, Lotte Lenya, Robert Shaw, Bernard Lee, Lois Maxwell
Director: Terence Young
Release Date:

April 8th, 1964
Release Date:

10th October, 1963
Synopsis: The evil SPECTRE organization has hatched a plan to steal a decoder that will access Russian state secrets and irrevocably unbalance the world order. It is up to James Bond to seize the device first, but he must confront enemies that include Red Grant and the ruthless Rosa Klebb, a former KGB agent with poison-tipped shoes. Even as Bond romances a stunning Soviet defector, he realizes he is being lured into a deadly trap, and he will need all of his courage, ability and cutting-edge technology to triumph over the forces that seek to destroy him.
Status:
From Russia with Love Movie Trailer
About the Movie
From Russia with Love (1963) is the second spy film in the James Bond series, and the second to star Sean Connery as the fictional MI6 agent James Bond. The film was produced by Albert R. Broccoli and Harry Saltzman, and directed by Terence Young. It is based on the 1957 novel of the same name by Ian Fleming. In the film, James Bond is sent to assist in the defection of Corporal Tatiana Romanova in Turkey, where SPECTRE plans to avenge the killing of Dr. No.
In addition to filming on location in Turkey, the action scenes were shot both in Scotland and Pinewood Studios, Buckinghamshire. From Russia with Love was a critical and commercial success, outgrossing its predecessor Dr. No with over $78 million in worldwide box office. It is considered one of the best films in the James Bond series.
---
'From Russia with Love' Stars
Bernard Lee, Daniela Bianchi, Lois Maxwell, Lotte Lenya, Pedro Armendáriz, Robert Shaw, Sean Connery, Terence Young
---
'From Russia with Love' Movie Links

From Russia with Love on IMDb