---
Harry Potter and the Philosopher's Stone (2001)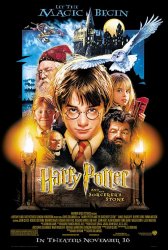 Starring: Daniel Radcliffe, Rupert Grint, Emma Watson, John Cleese, Robbie Coltrane, Warwick Davis, Richard Griffiths, Richard Harris, Ian Hart, John Hurt, Alan Rickman, Fiona Shaw, Maggie Smith, Julie Walters
Director: Chris Columbus
Release Date:

November 16th, 2001
Release Date:

16th November, 2001
Synopsis: Harry Potter is an average bespectacled 11 year old boy who has lived with the Dursley family ever since his parents died in a car crash. For some reason the family has always mistreated him. On his 11th birthday a giant man named Rubeus Hagrid hands him a letter telling him that he has been accepted as a student at the Hogwarts School of Witchcraft and Wizardry. Harry learns that his parents were wizards and were killed by an evil wizard Voldemort, a truth that was hidden from him all these years. He embarks for his new life as a student, gathering two good friends Ron Weasley and Hermione Granger along the way. They soon learn that something very valuable is hidden somewhere inside the school and Voldemort is very anxious to lay his hands on it.
Status:
Harry Potter and the Philosopher's Stone Movie Trailer
Harry Potter and the Philosopher's Stone Teaser Trailer
About the Movie
Harry Potter and the Philosopher's Stone (released in the United States and India as Harry Potter and the Sorcerer's Stone) is a 2001 fantasy-adventure film based on the novel of the same name by J. K. Rowling. Directed by Chris Columbus, it is the first in the popular Harry Potter films series. The story follows Harry Potter, a boy who discovers on his eleventh birthday that he is a wizard, and is sent to Hogwarts School of Witchcraft and Wizardry to begin his magical education. The film stars Daniel Radcliffe as Harry Potter, alongside Rupert Grint and Emma Watson as Harry's best friends Ron Weasley and Hermione Granger. The adult cast features Richard Harris, Maggie Smith, Robbie Coltrane, Alan Rickman and Ian Hart.
Warner Bros. bought the film rights to the book in 1999. Production began in 2000, with Columbus being chosen from a short list of directors to create the film. Rowling insisted that the entire cast be British or Irish, in keeping with the cultural integrity of the book and the film. Rowling also approved the screenplay, written by Steve Kloves. The film shot primarily at Leavesden Film Studios, as well as historic buildings around the country, and was released in the United Kingdom and the United States in November 2001. Along with mostly positive critical reception, it made in excess of $976 million at the worldwide box office, received three Academy Award nominations and is the sixth highest-grossing film of all-time.
---
'Harry Potter and the Philosopher's Stone' Stars
Alan Rickman, Chris Columbus, Daniel Radcliffe, Emma Watson, Fiona Shaw, Ian Hart, John Cleese, John Hurt, Julie Walters, Maggie Smith, Richard Griffiths, Richard Harris, Robbie Coltrane, Rupert Grint, Warwick Davis
---
'Harry Potter and the Philosopher's Stone' Movie Links

Harry Potter and the Philosopher's Stone on IMDb