---
Lymelife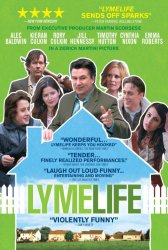 Starring: Rory Culkin, Alec Baldwin, Jill Hennessy, Emma Roberts, Timothy Hutton, Cynthia Nixon, Kieran Culkin
Director: Derick Martini
Release Date:

April 8th, 2009
Release Date:

2nd July, 2010
Synopsis: A coming of age dramedy where infidelity, real estate, and Lyme disease have two families falling apart on Long Island in the early eighties. Scott, 15, is at the point in his life when he finds out that the most important people around him, his father, his mother, and his brother, are not exactly who he thought they were. They are flawed and they are human.
Status:
About the Movie
Lymelife (2009) is an independently produced comedy/drama written by brothers Derick Martini and Steven Martini, and directed by Derick Martini, depicting aspects of their life in 1970s Long Island from the perspective of a teenager. The film stars Alec Baldwin, Rory Culkin, and Emma Roberts. Martin Scorsese was executive producer.
The score of the film was written by Steven Martini and performed by his band The Spaceship Martini.
The film debuted at the 2008 Toronto International Film Festival, in September 2008 and won the International Critic's Award (FIPRESCI).
---
'Lymelife' Stars
Alec Baldwin, Cynthia Nixon, Derick Martini, Emma Roberts, Jill Hennessy, Kieran Culkin, Rory Culkin, Timothy Hutton
---
'Lymelife' Movie Links

Official Lymelife Movie Website


Lymelife on IMDb