---
ParaNorman (2012)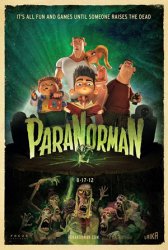 Starring: Kodi Smit-McPhee, Tucker Albrizzi, Anna Kendrick, Casey Affleck, Christopher Mintz-Plasse, John Goodman
Director: Chris Butler, Sam Fell
Release Date:

August 17th, 2012
Release Date:

14th September, 2012
Running Time: 92 Mins
Synopsis: A misunderstood boy takes on ghosts, zombies and grown-ups to save his town from a centuries-old curse.
Status:
About the Movie
ParaNorman is a 2012 American 3D stop-motion animated comedy horror film produced by Laika, distributed by Focus Features and was released on August 17, 2012. The voice cast includes Casey Affleck, Tempestt Bledsoe, Jeff Garlin, John Goodman, Bernard Hill, Anna Kendrick, Leslie Mann, Christopher Mintz-Plasse, Kodi Smit-McPhee, Jodelle Ferland, Elaine Stritch, and Tucker Albrizzi. It is the first stop-motion film to use a 3D color printer to create character faces, and only the second stop motion film to be shot in 3D.
Although the film was well received by critics, it was only a modest box office success, earning $100 million against its budget of $60 million. The film is nominated for the 2013 Academy Award for Best Animated Feature and BAFTA Award for Best Animated Film.
---
'ParaNorman' Stars
Anna Kendrick, Casey Affleck, Chris Butler, Christopher Mintz-Plasse, John Goodman, Kodi Smit-McPhee, Sam Fell, Tucker Albrizzi
---
'ParaNorman' Movie Links

Official ParaNorman Movie Website


ParaNorman on IMDb


ParaNorman on Wikipedia