---
Slumdog Millionaire (2008)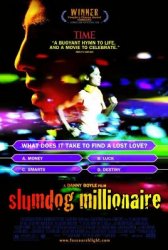 Starring: Dev Patel, Anil Kapoor, Saurabh Shukla, Rajendranath Zutshi, Jeneva Talwar, Freida Pinto, Irrfan Khan
Director: Danny Boyle, Loveleen Tandan
Release Date:

January 23rd, 2009
Release Date:

9th January, 2009
Synopsis: Eighteen year old Jamal Malik is having an amazing answering streak on the Indian version of the television game show, "Who Wants to Be a Millionaire". He's only one correct question away from the big prize. However, some, including those associated with the game show, question how someone like Jamal, a self confessed non-genius who grew up in the slums of Mumbai, can be doing so well on the show when others who are brighter, more educated and wealthier than him have failed. Is Jamal cheating? Is it purely luck that they have asked him the questions to which he knows the answers?
Status:
Slumdog Millionaire Movie Trailer
About the Movie
Slumdog Millionaire is a 2008 British film directed by Danny Boyle, written by Simon Beaufoy, and co-directed in India by Loveleen Tandan. It is an adaptation of the novel Q & A (2005) by Indian author and diplomat Vikas Swarup. Set and filmed in India, the film tells the story of a young man from the slums of Mumbai who appears on the Indian version of Who Wants to Be a Millionaire? (Kaun Banega Crorepati in the Hindi version) and exceeds people's expectations, thereby arousing the suspicions of the game show host and of law enforcement officials.
After its world premiere at Telluride Film Festival and subsequent screenings at the Toronto International Film Festival and the London Film Festival, Slumdog Millionaire initially had a limited North American release on 12 November 2008, to critical acclaim. It later had a nationwide grand release in the United Kingdom on 9 January 2009 and in the United States on 23 January 2009. It premiered in Mumbai on 22 January 2009. It was released on DVD and Blu-ray in the United States on 31 March 2009.
Slumdog Millionaire was nominated for ten Academy Awards in 2009 and won eight, the most for any film of 2008, including Best Picture, Best Director and Best Adapted Screenplay. It also won seven BAFTA Awards (including Best Film), five Critics' Choice Awards, and four Golden Globes. Slumdog Millionaire has stirred controversy concerning language use, its portrayals of Indians and Hinduism, and the welfare of its child actors.
---
'Slumdog Millionaire' Stars
Anil Kapoor, Danny Boyle, Dev Patel, Freida Pinto, Irrfan Khan, Jeneva Talwar, Loveleen Tandan, Rajendranath Zutshi, Saurabh Shukla
---
'Slumdog Millionaire' Movie Links

Official Slumdog Millionaire Movie Website


Slumdog Millionaire on IMDb