---
The Burning Plain (2008)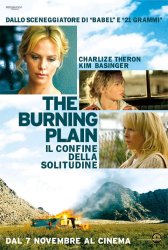 Starring: Charlize Theron, Kim Basinger, Jennifer Lawrence, José María Yazpik, Joaquim de Almeida
Director: Guillermo Arriaga
Release Date:

13th March, 2009
Synopsis: The past and the present have a curious way of effecting one another as several people seperated by time and space are about to discover. These people will discover that their actions may mean the difference between life and death as well as their own journeys into seeking redemption, and whether or not they will ever find it.
Status:
The Burning Plain Movie Trailer
About the Movie
The Burning Plain is a 2008 drama film directed and written by Guillermo Arriaga, the screenwriter of Amores perros (2000), 21 Grams (2003), and Babel (2006). The film stars Charlize Theron, Jennifer Lawrence, Kim Basinger and Joaquim de Almeida. In Arriaga's directorial debut, he films a story that has multipart story strands woven together like in his previous screenplays. Filming of The Burning Plain began in New Mexico in November 2007, and the film was released in late 2008 in various festivals, before general releases in 2009.
---
'The Burning Plain' Stars
Charlize Theron, Guillermo Arriaga, Jennifer Lawrence, Joaquim de Almeida, José María Yazpik, Kim Basinger
---
'The Burning Plain' Movie Links

The Burning Plain on IMDb