---
The Conspirator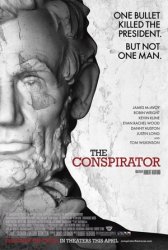 Starring: James McAvoy, Robin Wright, Kevin Kline, Tom Wilkinson, Evan Rachel Wood, Justin Long
Director: Robert Redford
Release Date:

April 15th, 2011
Release Date:

1st July, 2011
Running Time: 122 Mins
Synopsis: In the wake of Abraham Lincoln's assassination, seven men and one woman are arrested and charged with conspiring to kill the President, the Vice-President, and the Secretary of State. The lone woman charged, Mary Surratt, 42, owns a boarding house where John Wilkes Booth and others met and planned the simultaneous attacks. Against the ominous back-drop of post-Civil War Washington, newly-minted lawyer, Frederick Aiken, a 28-year-old Union war-hero, reluctantly agrees to defend Surratt before a military tribunal. As the trial unfolds, Aiken realizes his client may be innocent and that she is being used as bait and hostage in order to capture the only conspirator to have escaped a massive manhunt, her own son.
Status:
titlexxx - The Conspirator Movie Trailer
About the Movie
The Conspirator is a 2010 historical drama film directed by Robert Redford. It is the debut film of the American Film Company. The film tells the story of Mary Surratt, the only female co-conspirator charged in the Abraham Lincoln assassination and the first woman to be executed by the United States federal government. It stars James McAvoy, Robin Wright, Justin Long, Evan Rachel Wood, Jonathan Groff, Tom Wilkinson, Alexis Bledel, Kevin Kline, and Toby Kebbell.
The Conspirator premiered at the Toronto International Film Festival on September 11, 2010 and a special premiere screening took place on March 29, 2011 at the Abraham Lincoln Presidential Library and Museum in Springfield, Illinois. A second premiere screening took place on April 10 at Ford's Theater in Washington, D.C., the site of the assassination. The United States theatrical release took place on April 15, 2011, the 146th anniversary of the death of President Lincoln. The film was released in Canada on April 29 and is scheduled to be released in the UK on July 1.
---
'The Conspirator' Stars
Evan Rachel Wood, James McAvoy, Justin Long, Kevin Kline, Robert Redford, Robin Wright Penn, Tom Wilkinson
---
'The Conspirator' Movie Links

The Conspirator on IMDb


The Conspirator on Wikipedia