---
The Imaginarium of Doctor Parnassus (2009)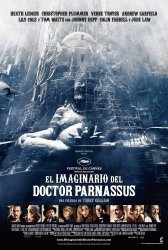 Starring: Johnny Depp, Heath Ledger, Jude Law, Colin Farrell, Christopher Plummer, Lily Cole, Tom Waits, Verne Troyer
Director: Terry Gilliam
Release Date:

January 8th, 2010
Release Date:

16th October, 2009
Synopsis: The Imaginarium of Doctor Parnassus is a fantastical morality tale, which tells the story of Dr Parnassus and his extraordinary 'Imaginarium', a travelling show where members of the audience get an irresistible opportunity to choose between light and joy or darkness and gloom. Blessed with the extraordinary gift of guiding the imaginations of others, Dr Parnassus is cursed with a dark secret. Long ago he made a bet with the devil, Mr Nick, in which he won immortality. Centuries later, on meeting his one true love, Dr Parnassus made another deal with the devil, trading his immortality for youth, on condition that when his first-born reached its 16th birthday he or she would become the property of Mr Nick. His daughter is now rapidly approaching this 'coming of age' milestone and Dr Parnassus must fight to save her in a never-ending landscape of surreal obstacles and undo the mistakes of his past once and for all.
Status:
The Imaginarium of Doctor Parnassus Movie Trailer
About the Movie
The Imaginarium of Doctor Parnassus is an upcoming fantasy film directed by Terry Gilliam and written by Gilliam and Charles McKeown. The film follows the leader of a travelling theatre troupe who, having made a deal with the Devil, takes audience members through a magical mirror to explore their imaginations.
Christopher Plummer, Tom Waits, and Heath Ledger star in the film, though Ledger's death one-third of the way through filming caused production to be temporarily suspended. Ledger's role was recast with Johnny Depp, Jude Law, and Colin Farrell portraying transformations of Ledger's character Tony as he travels through a dream world.
The film's world premiere was during the 62nd Cannes Film Festival, out of competition. The film received a PG-13 rating for "violent images, some sensuality, language and smoking." and will receive a 12A rating in the UK for strong language and some violent scenes.
The UK release for the film was due to release on 6 June 2009 but pushed back to 16 October 2009 due to the successful premiere at the Cannes Film Festival.
---
'The Imaginarium of Doctor Parnassus' Stars
Christopher Plummer, Colin Farrell, Heath Ledger, Johnny Depp, Jude Law, Lily Cole, Terry Gilliam, Tom Waits, Verne Troyer
---
'The Imaginarium of Doctor Parnassus' Movie Links

Official The Imaginarium of Doctor Parnassus Movie Website


The Imaginarium of Doctor Parnassus on IMDb