---
The Princess Bride (1987)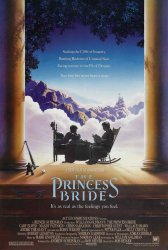 Starring: Cary Elwes, Mandy Patinkin, Chris Sarandon, Christopher Guest, Wallace Shawn, André the Giant, Fred Savage, Robin Wright Penn, Peter Falk, Billy Crystal
Director: Rob Reiner
Release Date:

September 25th, 1987
Synopsis: When the lovely Buttercup is kidnapped by a ghastly gang intent on fermenting an international incident they find they are pursued by the Dread Pirate Roberts who just might be Westley, her one true love. Also after everyone is nasty Prince Humperdinck to whom Buttercup is now betrothed but who seems to care little for her continued survival. The stage is set for swordfights, monsters, and tortures – but will Grandpa be allowed to finish telling the story with all these kissy bits?
Status:
The Princess Bride Movie Trailer
About the Movie
The Princess Bride is a 1987 American film, based on the 1973 novel of the same name by William Goldman, combining comedy, adventure, romance, and fantasy.
The film was directed by Rob Reiner from a screenplay by Goldman. The story is presented in the movie as a book being read by a grandfather (Peter Falk) to his sick grandson (Fred Savage), thus effectively presenting this novel's narrative style. This film is number 50 on Bravo's "100 Funniest Movies" and number 88 on The American Film Institute's (AFI) "AFI's 100 Years… 100 Passions" listing the 100 greatest film love stories of all time.
---
'The Princess Bride' Stars
André the Giant, Billy Crystal, Cary Elwes, Chris Sarandon, Christopher Guest, Fred Savage, Mandy Patinkin, Peter Falk, Rob Reiner, Robin Wright Penn, Wallace Shawn
---
'The Princess Bride' Movie Links

The Princess Bride on IMDb