---
The Resident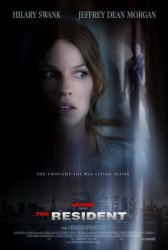 Starring: Hilary Swank, Jeffrey Dean Morgan, Lee Pace, Christopher Lee, Aunjanue Ellis
Director: Antti Jokinen
Release Date:

February 18th, 2011
Release Date:

11th March, 2011
Running Time: 91 Mins
Synopsis: When a young doctor suspects she may not be alone in her new Brooklyn loft, she learns that her landlord has formed a frightening obsession with her.
Status:
titlexxx - The Resident Movie Trailer
About the Movie
The Resident is an upcoming thriller-drama film which is directed by Antti Jokinen and stars Hilary Swank, Jeffrey Dean Morgan and Christopher Lee.
---
Movie Reviews
Movie Review from TotalFilm.com

Hammer Films' comeback enjoys a two-pronged boost this month, thanks to Wake Wood and this dread-soaked if derivative chiller about love, obsession and carpentry. Hilary Swank toplines as Juliet, an ER surgeon living in New York. Discovering her long-time boyfriend Jack (Pushing Daisies' lee Pace) has had an affair, she moves out of their apartment. Searching for a new place to live – and perhaps a new life – she meets max (Jeffrey Dean Morgan) who runs an old, stately apartment building with his grandfather august (Christopher Lee).

Read the Full Movie Review at TotalFilm.com
Movie Review from Guardian.co.uk

Hilary Swank's recently divorced doctor clearly hasn't seen enough by-the-book thrillers, or she'd be asking why the rent on her fabulous new Brooklyn apartment is dirt cheap. Or why the building is vacant except for her nice-guy landlord Max (Jeffrey Dean Morgan) and his grandfather (Christopher Lee, superbly sinister). Generic and intermittently silly, The Resident does get under the skin, with a drip drip of paranoia as it dawns on Swank she is being watched – landlord Max has converted the building into a peeper's paradise of spy holes.

Read the Full Movie Review at Guardian.co.uk
Movie Review from TimeOut.com

Like 'Paranormal Activity', this creepy psychological thriller taps in to fears about invasions of our private space. But the threat here is tangible rather than supernatural. Still raw from her husband's betrayal, ER surgeon Dr Juliet Devereau (Hilary Swank, pictured) moves into a new apartment in Brooklyn. The low rent and charming landlord, Max (Jeffrey Dean Morgan), both seem too good to be true, and so it proves. Max is soon ogling her though spyholes as she bathes and creeping around her bedroom while she sleeps.

Read the Full Movie Review at TimeOut.com
Movie Review from Telegraph.co.uk

As a throwback to an earlier, sillier age of home-invasion thrillers – shades of Pacific Heights and Single White Female – it's fitting that this sleek trash comes with the production stamp of Hammer Films, even throwing a cameo to a sadly-underused Christopher Lee. Hilary Swank plays a New York medic whose palatial new flat rental looks too good to be true, because it is: her hottie landlord (Jeffrey Dean Morgan) smiles all too readily to be anything other than a pathologically jealous psycho stalker.

Read the Full Movie Review at Telegraph.co.uk
---
'The Resident' Stars
Antti Jokinen, Aunjanue Ellis, Christopher Lee, Hilary Swank, Jeffrey Dean Morgan, Lee Pace
---
'The Resident' Movie Links

The Resident on IMDb


The Resident on Wikipedia