---
The Thing (2011)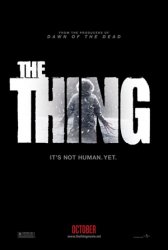 Starring: Mary Elizabeth Winstead, Joel Edgerton, Ulrich Thomsen, Eric Christian Olsen, Adewale Akinnuoye-Agbaje
Director: Matthijs van Heijningen Jr.
Release Date:

October 14th, 2011
Release Date:

2nd December, 2011
Running Time: 103 Mins
Synopsis: At an Antarctica research site, the discovery of an alien craft leads to a confrontation between graduate student Kate Lloyd and scientist Dr. Sander Halvorson. While Dr. Halvorson keeps to his research, Kate partners with Sam Carter, a helicopter pilot, to pursue the alien life form.
Status:
titlexxx - The Thing Movie Trailer
About the Movie
The Thing is a 2011 science fiction horror film directed by Matthijs van Heijningen Jr. and written by Eric Heisserer based on the novella Who Goes There? by John W. Campbell. It is a prequel to the 1982 film of the same name by John Carpenter, the plot ending immediately before the start of the plot for that film. The film stars Mary Elizabeth Winstead, Joel Edgerton, Ulrich Thomsen, Adewale Akinnuoye-Agbaje and Eric Christian Olsen. They are part of a team of Norwegian and American scientists who discover an alien buried deep in the ice of Antarctica, realizing too late that it is still alive, consuming and replicating the team members.
---
'The Thing' Stars
Adewale Akinnuoye-Agbaje, Eric Christian Olsen, Joel Edgerton, Mary Elizabeth Winstead, Matthijs van Heijningen Jr., Ulrich Thomsen
---
'The Thing' Movie Links

The Thing on IMDb


The Thing on Wikipedia