---
The Virginity Hit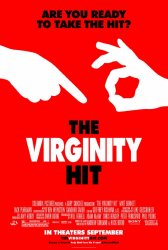 Starring: Matt Bennett, Zack Pearlman, Jacob Davich, Justin Kline, Krysta Rodriguez, Nicole Weaver
Director: Huck Botko, Andrew Gurland
Release Date:

September 24th, 2010
Release Date:

19th November, 2010
Synopsis: Four guys, one camera, and their experience chronicling the exhilarating and terrifying rite of passage: losing your virginity. As these guys help their buddy get laid, they'll have to survive friends with benefits, Internet hookups, even porn stars during an adventure that proves why you will always remember your first.
Status:
The Virginity Hit Movie Trailer
About the Movie
The Virginity Hit is a 2010 comedy film produced by Adam McKay and Will Ferrell, and directed by Huck Botko and Andrew Gurland. It stars Matt Bennett, Zack Pearlman, Jacob Davich, Justin Kline and Nicole Weaver.
The film itself is a series of videos on a teen's attempt to lose his virginity, being recorded from cell phones to video cameras. Most of the cast used their own names for their characters.
Much of the footage were shot by the cast themselves, for a span of months.
---
Movie Reviews
Movie Review from Movies.com

Ah, teenagers today. As obsessed with sex and drugs and drinking and having fun as they always were, only now there's this thing called The Internet there to document every irresponsible act and embarrassing encounter with the click of a mouse. For the YouTube generation, The Virginity Hit will no doubt resonate; Sony may not even need to market it, what with social media in place to spread the word. Thanks to its improvised spirit and handheld aesthetic, The Virginity Hit manages to pull off what successful viral videos also do: it feels real, even if in the back of your brain you know it's about as authentic as the girl who quit her job via dry-erase board.

Read the Full Movie Review at Movies.com
---
'The Virginity Hit' Stars
Andrew Gurland, Huck Botko, Jacob Davich, Justin Kline, Krysta Rodriguez, Matt Bennett, Nicole Weaver, Zack Pearlman
---
'The Virginity Hit' Movie Links

Official The Virginity Hit Movie Website


The Virginity Hit on IMDb