---
Unknown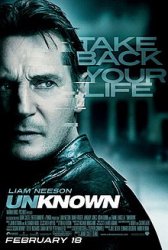 Starring: Liam Neeson, Diane Kruger, January Jones, Aidan Quinn, Bruno Ganz, Frank Langella
Director: Jaume Collet-Serra
Release Date:

February 18th, 2011
Release Date:

4th March, 2011
Running Time: 113 Mins
Synopsis: Dr. Martin Harris awakens after a car accident in Berlin to discover that his wife suddenly doesn't recognize him and another man has assumed his identity. Ignored by disbelieving authorities and hunted by mysterious assassins, he finds himself alone, tired and on the run. Aided by an unlikely ally, Martin plunges headlong into a deadly mystery that will force him to question his sanity, his identity, and just how far he's willing to go to uncover the truth.
Status:
titlexxx - Unknown Movie Trailer
About the Movie
Unknown (originally titled Unknown White Male) is an upcoming action thriller film directed by Jaume Collet-Serra, based on the novel Out of My Head by Didier van Cauwelaert, starring Liam Neeson, Diane Kruger, January Jones, Aidan Quinn and Frank Langella.
---
Movie Reviews
Movie Review from EmpireOnline.com

Arriving in Berlin, Biochemist Martin Harris (Liam Neeson) is in a cab accident. When he emerges from a coma, his wife (January Jones) claims another man (Aidan Quinn) is him. Aided by a Bosnian cabbie (Diane Kruger) and an ex-Stasi private eye (Bruno Ganz) and pursued by killers, Martin tries to understand. Unknown pulls a revelation every half-hour which throws all you thought you knew up in the air — things that seem plot-holes make sense later, but things which seem straightforward become demented contrivances.

Read the Full Movie Review at EmpireOnline.com
Movie Review from TotalFilm.com

Thanks to 2008's Taken, Liam Neeson has found himself rebranded as a fiftysomething action badass for the 21st Century. But where that Luc Besson production hit its target via cartoonishly kinetic bullet-play and Neeson's tongue-in-cheek turn, this wronged man/amnesiac/conspiracy thriller takes itself far too seriously. Which is a shame, given the set-up's juicy promise. Shortly after US bio-technologist Dr Martin Harris (Neeson) arrives at a Berlin hotel with wife Liz (January Jones) for a science conference, he realises he's left his briefcase at the airport.

Read the Full Movie Review at TotalFilm.com
Movie Review from Hollywood.com

In Unknown, a generic conspiracy thriller from director Jaume Collet-Serra (Orphan, House of Wax), the protagonist, played by Liam Neeson, emerges from a four-day coma to find himself in the midst of a kind of reverse-identity crisis: He's fairly certain who he is, but everyone else around him seems to have forgotten, as if they've contracted a kind of collective amnesia. The filmmakers hope dearly that this amnesia will extend to the audience, that you won't remember the Bourne trilogy, The Fugitive, or any number of other thrillers from which Unknown borrows heavily.

Read the Full Movie Review at Hollywood.com
Movie Review from Guardian.co.uk

Here is the week's second conspiracy thriller, one with a nifty final twist, but it is so joyless and heavy-handed I found it impossible to like. Liam Neeson and January Jones play a married couple who go to Berlin for a scientific conference. A car wreck puts Neeson in a coma; he awakes to find that a different man has taken over his identity, his job and indeed his wife. He panics, rants and raves, but no one believes him. What's going on? It's all promising stuff with an ingenious ending.

Read the Full Movie Review at Guardian.co.uk
Movie Review from Movies.com

A couple of years ago Liam Neeson hit the sleepy month of January with a cattle prod called Taken. That movie was totally awesome, and Unknown looks like it was made in an attempt to get lightning to strike twice (which is why my friends and I have been lovingly referring to it as TAKENER). I went into it with high hopes, because it is truly stunning to see Liam Neeson handling knives and doing roundhouse kicks. Thankfully, I left satisfied, as the movie is a well-performed, well-directed thriller that kept me interested the entire time.

Read the Full Movie Review at Movies.com
Movie Review from Telegraph.co.uk

Roman Polanski didn't direct this tatty and delirious Euro-pudding, but he might have done, if force-fed the wrong kind of mushroom and reminded about his 1988 Harrison Ford lost-wife thriller, Frantic. Liam Neeson has the comparable role of a biotech scientist visiting Berlin for a conference, who mislays his passport, all proof of his identity, and the plot, in that order. His wife (January Jones, flubbing cool Hitchcock blonde duties) denies all knowledge.

Read the Full Movie Review at Telegraph.co.uk
---
'Unknown' Stars
Aidan Quinn, Bruno Ganz, Diane Kruger, Frank Langella, January Jones, Jaume Collet-Serra, Liam Neeson
---
'Unknown' Movie Links

Official Unknown Movie Website


Unknown on IMDb


Unknown on Wikipedia