---
Vampires Suck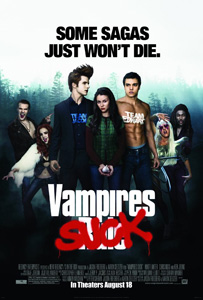 Starring: Jenn Proske, Matt Lanter, Diedrich Bader, Chris Riggi, Ken Jeong
Director: Jason Friedberg, Aaron Seltzer
Release Date:

August 18th, 2010
Release Date:

15th October, 2010
Synopsis: A comedy about contemporary teen angst and romance movies. Becca, an anxious, non-vampire teen, is torn between two boys. Before she can choose, Becca must get around her controlling father, who embarrasses Becca by treating her like a child. Meanwhile, Becca's friends contend with their own romantic issues — all of which collide at the prom.
Status:
Vampires Suck Movie Trailer
About the Movie
Vampires Suck is a 2010 American vampire spoof film based on the Twilight film series directed by Jason Friedberg and Aaron Seltzer, starring Jenn Proske, Matt Lanter, Christopher N. Riggi, Ken Jeong, and Anneliese van der Pol.
---
Movie Reviews
Movie Review from EmpireOnline.com

Stephenie Meyer's vampire tale and the cash cow that it spawned is a natural breeding ground for spoofs, but this is from Date Movie//Meet The Spartans creators Jason Friedberg and Aaron Seltzer, a pair who have never met a bandwagon they didn't want to urinate all over. So we get the usual lame assortment of easy cracks, sight gags and pop culture references. Most of the cast look like they're suffering through — the biggest crime is there are people here (including the likes of Ken Jeong, Diedrich Bader and Dave Foley) who have been truly funny in other things and are simply wasted.

Read the Full Movie Review at EmpireOnline.com
Movie Review from TotalFilm.com

From the relent less goon squad who churned out Scary/Date/Epic/ Disaster Movie comes this fish in a barrel skewering of the Twilight Saga. You know the drill already: a moody teenage girl (Jenn Proske) torn between two suitors, one a vampire (Matt Lanter's Edward Sullen), the other a werewolf (Chris Riggi's Jacob). You can probably guess the rest, too: creaky pop-culture gags, silly smut and pratfalls, pratfalls, pratfalls. It's marginally sharper than the likes of Meet The Spartans – yes, that good – but essentially as tatty as a porn parody, without all the best bits.

Read the Full Movie Review at TotalFilm.com
Movie Review from Hollywood.com

The pointlessness of mocking that which is already inherently funny, or which has already been parodied incessantly by others, is pretty much self-evident, but don't tell that to filmmakers Jason Friedberg and Aaron Seltzer, who've been ignoring that axiom rather lucratively for the better part of a decade. Their particular brand of generic, plain-wrap satire, seen in such films as Date Movie, Epic Movie, and Disaster Movie (I'm still waiting for them to parody themselves with Movie Movie, but that might be a bit too meta), still holds a firm foothold over the shrinking yet nonetheless significant segment of the movie-watching audience that lacks broadband access to the internet.

Read the Full Movie Review at Hollywood.com
Movie Review from Movies.com

The guys responsible for writing and directing this piece of garbage–their names are Jason Friedberg and Aaron Seltzer–were two of the half dozen writers on the first Scary Movie. I liked Scary Movie. Maybe one of them wrote a joke I laughed at in that film. It's impossible to know. But my money is on them not having done that. Because by this point in history, post-Disaster Movie, Epic Movie, Date Movie and Meet The Spartans, it's not too bold a move to call them the two worst filmmakers alive. I see one of their turd movies coming down the line and I hold my nose and I sit through it and when it's over I feel actual hatred for two people I've never even met.

Read the Full Movie Review at Movies.com
Movie Review from Telegraph.co.uk

Vampires Suck comes from the writing-directing team of Jason Friedberg and Aaron Seltzer, against whom, on the basis of their past efforts, worldwide film reviewers have issued the critical equivalent a homicidal fatwa. They wrote the original Scary Movie (2000) and directed Date Movie (2006), Epic Movie (2007), Meet the Spartans (2008) and Disaster Movie (also 2008). That's an all-night marathon of lame business I would not wish on Jim Davidson. Their latest, which devotes almost all of its 82 minutes to spoofing the Twilight films, multiplies the series' total laugh quota by a factor of, well, one.

Read the Full Movie Review at Telegraph.co.uk
---
'Vampires Suck' Stars
Aaron Seltzer, Chris Riggi, Diedrich Bader, Jason Friedberg, Jenn Proske, Ken Jeong, Matt Lanter
---
'Vampires Suck' Movie Links

Official Vampires Suck Movie Website


Vampires Suck on IMDb