---
Australia (2008)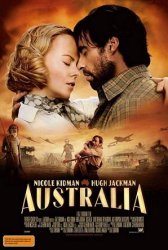 Starring: Hugh Jackman, Nicole Kidman, David Wenham, Bryan Brown, Bruce Spence, Jack Thompson
Director: Baz Luhrmann
Release Date:

November 26th, 2008
Release Date:

26th December, 2008
Synopsis: Luhrmann's film is set in northern Australia prior to World War II and centers on an English aristocrat who inherits a cattle station the size of Maryland. When English cattle barons plot to take her land, she reluctantly joins forces with a rough-hewn stock-man to drive 2,000 head of cattle across hundreds of miles of the country's most unforgiving land, only to still face the bombing of Darwin, Australia, by the Japanese forces that had attacked Pearl Harbor only months earlier.
Status:
About the Movie
Australia is a 2008 epic romance film directed by Baz Luhrmann and starring Nicole Kidman and Hugh Jackman. It is the second-highest grossing Australian film of all time, trailing Crocodile Dundee. The screenplay was written by Luhrmann and screenwriter Stuart Beattie, with Ronald Harwood. The film is a character story, set between 1939 and 1942 against a dramatised backdrop of events across Northern Australia at the time, such as the bombing of Darwin during World War II. Production took place in Sydney, Darwin, Kununurra, and Bowen. The movie was to be released on 13 November 2008 in Australia and 16 November 2008 in the United States; however, Fox announced that it had pushed back the release dates in both Australia and the United States to 26 November 2008, with subsequent worldwide release dates throughout late December 2008 and January and February 2009.
---
Movie Reviews
Movie Review by Marty Meltz
Quality – 9 out of 10
Lotta courage here. It took moxie, daring and dedication to produce a two-and-a-half hour film saga set in Australia which, very deliberately, has all the sentimentality, ideal romance, plainspoken heroism, fantasy ending and flavor of the old-timey Western. And one of its recurring themes is the music and even Judy Garland visuals from "The Wizard of Oz." And now throw in the climax, the Japanese bombardment of Northern Australia on February 19, 1942.
But its appeal is as solid as gold. Film critic cynics will have a field day and young audiences will be impatient with a film that does not cater to modern short attention spans nor avoid sentimentality. Because of the way it is, it is saying that this is the way we were. I loved what it was trying to do and its salute to the movie values we once loved. The characters, especially in the supporting roles, are full-blooded.
The film makes no excuses. In order to spell out the characters, the human effort and the nature of men's insatiable passion for acquisition and power, nothing short of a monumental screen time will do. It wastes no time and no space. This is the Outback, in which references are as big as the screen chooses to make them.
Director Baz Luhrmann has cannily reckoned that certain values in western civilization are universal and immutable. Given the calculated film styling, helped in no small part by a computer-constructed cattle stampede, you find yourself as taken up by the courageous, seemingly impossible tasks of the heroes as you are by the very human motivations that are fed by the heart.
The film begins its great saga in September, 1939. Hitler has invaded Poland. The prim and proper English aristocrat, Lady Sarah Ashley (Nicole Kidman), has inherited property in Darwin, Northern Australia. Her long, long journey from the motherland will be motivated primarily by reports of her husband's philandering. Once there, she is to find that he's been murdered.
Indeed, this is rough cowboy country where a man is measured by his alcohol blood count. Lady Ashley has arrived at her rundown but vast estate, Faraway Downs. She being an uppity, perfectly elegant noblewoman of jaunty demeanor, she has already unbalanced the raucous inebriates at the saloon. But she fascinates the charming 9-year-old half-caste Aboriginal Nullah (Brandon Walters). Inevitably, he will carry the film.
Holding onto the estate will depend upon her driving 1,500 head of cattle to the port at Darwin. There, the Australian military is to purchase them. Due to an altercation involving Lady Ashley's callous cattle driver Neil Fletcher (David Wenham) in the matter of his abuse of Nullah, not to say his having secretly run choice cattle over to a competitor's range, she has fired him. He takes the crew with him, leaving her with no one to drive the herd.
To the rescue comes a handsome veteran driver, Drover (Hugh Jackman), a died-in-the-wool Aussie cowboy he-man. But he being quite friendly with the Agoriginals, he is not especially popular thereabouts. And now, lacking a crew, he'll fall back on the more-than-willing Aboriginal house staff, Nullah and, of course, Lady Ashley who's an ace horseman.
Aiming to sabotage the drive will be the cattle baron and political big boss at Darwin, King Carney (Bryan Brown), with whom Fletcher has taken employ.
The drive will be the adventure. Events will include a colossal stampede ignited by the vile Fletcher, an increasingly free-swinging Lady Ashley, a dress ball, and relations with the natives. Inevitably, in early February of 1942, there is the Japanese attack and Drove's heroics in trying to rescue children from the offshore Mission Island. In the midst of it all will be the contentious romance between Lady Ashley and Drover.
Let us pause a moment to set forth the historical background of the film's climax:
In the late 1930s, the Japanese, fueled by a national spirit which, under a conviction that they were destined by history to conquer and completely control all of the Pacific Ocean, in particular Manchuria, China and Southeast Asia, began executing their grand strategy. In Japan's detailed plans, the intention was to attack and take possession, by late 1941, of all of the rich oil and mineral resources of the Malay Peninsula, Indochina, the Phillipines and Indonesia.
The one mighty force blocking their ambitions was the U.S.fleet in Hawaii. By 1941, fired by a desperation over the U.S.embargo which threatened to leave their entire oil supply gone within 18 months, Japan unleashed its Combined Fleet in a daredevil attack on Pearl Harbor.
Even as the U.S. naval base was under attack, the remainder of the Japanese navy and air force struck at Singapore, Indo-China and other ports. Of particular interest was the tropical North Australian city of Darwin which they attacked in fury two months after Pearl Harbor.
"Australia" deals with this in a flowing fury of military ruthlessness, in this case a terror attack on terrified innocents. This movie will not be greeted well in Japan.
The ending is, yes, very sentimental. But it's a sentimentality that challenges our pseudo-sophisticated kneejerk reactions. This is quality stuff. There is little of which to complain except for a minor unjustifiably extended scene here and there.
We need more such unpretentious, honest movies. Go for it.

Read More Movie Reviews at Marty at the Movies
Movie Review by Todd Murphy
Rating – 6.5/10
There's a lot of noble filmmaking intention underpinning this sweeping epic but unfortunately director Baz Luhrmann does not show enough directorial control of the material, leaving a film that is corny, sometimes silly, stunningly beautiful, but mostly lacking a cohesive narrative and theme.
The concept of this film in a Hollywood sense is highly unusual. Director Baz Luhrmann deserves credit for twisting the arm off of some studio executive in Tinseltown for allowing him to spend well over $100 million on a film that probably will not resonate with the American audience. Given that he was given the green light, it is understandable that Luhrmann wanted to put as much as he could in to the film and in this respect, the film does not disappoint.
The images are bold and magnificent, the characters are colourful and larger than life, and the story is epic, covering much Australian thematic ground such as life in the Outback on a cattle station in the late 1930′s, the treatment of Aboriginal children by the authorities (ie the Stolen Generations), the bombing of Darwin by the Japanese, culminating with a massive, sweeping love story between the lead characters Sarah Ashley (Nicole Kidman) and the Drover (Hugh Jackman).
There are moments in this film that are magical, that capture the frontier spirit and the larger than life scenarios depicted. The bombing of Darwin is of course the major epic sequence in the film, but scenes of Lady Ashley, the Drover and the team moving fifteen hundred cattle across the Outback and the dangers that they face from their competitors is likewise spectacular, which is an unexpected surprise given one might not automatically think that moving cows around across a desert would be cinematically interesting.
Hugh Jackman is perfect as the Drover; it's hard to believe that Russell Crowe was the original choice for this role because he would not have suited it all. The astonishing discovery of this film is young child actor Brandon Walters who plays young Aboriginal boy Nullah; not only does he have a strong gravity on screen that holds your interest but he is a born actor, conveying a wide range of emotions that you cannot help but feel sympathy for.
However, the best thing about this film is the fact that it got made at all; a huge sweeping epic telling an otherwise little-known, but dramatic part of Australian history is something to be celebrated, and Baz Luhrmann deserves all the kudos for getting this film made.
Unfortunately, director Baz Luhrmann never quite has control of the grandness of what he is trying to achieve, leaving a film that is in cohesive in terms of structure, plot and theme. In terms of individual scenes, the film works well; as a whole, it does not come close to a knockout punch because it can never decide what that punch is. Is it the epic love story? The treatment of Aboriginal children as part of the Stolen Generations? The bombing of Darwin and World War II? The harsh reality of life in the Outback (or likewise the grandeur and beauty of it)? The dark underbelly of humanity and those things we are capable of? All of these themes on their own are big and strong, but because they are not dealt with the right amount of gravity, the whole enterprise becomes two-dimensional.
It does not help either that Nicole Kidman puts in a fairly average performance as Lady Ashley. It's true she gets better as the film goes along, but the opening sequences with her character border on stupidity and silliness.
Ironically, the aspect of the film designed to entice the American audience is also its most cringeworthy; the blatant use of Aussie accents. Hugh Jackman is okay, but he still gets to say "crickey" about ten times. Poor Bryan Brown and David Wenham have to really belt that accent out. It's sad that the only way Australians sell themselves to the world is through that damn accent and it definitely works against the film.
Overall, Baz Luhrmann could not tame this epic beast; "Australia" is noble, but deeply flawed and the Australian Tourism Board and Film Industry were probably not wise to hope that it would revive their respective interests.

Read More Movie Reviews at AllAboutMovies.net
---
'Australia' Stars
Baz Luhrmann, Bruce Spence, Bryan Brown, David Wenham, Hugh Jackman, Jack Thompson, Nicole Kidman
---
'Australia' Movie Links

Official Australia Movie Website


Australia on IMDb