---
Battle: Los Angeles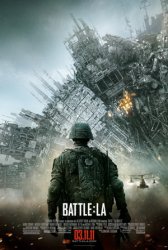 Starring: Aaron Eckhart, Michelle Rodriguez, Michael Peña, Bridget Moynahan, Will Rothhaar, Cory Hardrict
Director: Jonathan Liebesman
Release Date:

March 11th, 2011
Release Date:

11th March, 2011
Running Time: 116 Mins
Synopsis: For years, there have been documented cases of UFO sightings around the world - Buenos Aires, Seoul, France, Germany, China. But in 2011, what were once just sightings will become a terrifying reality when Earth is attacked by unknown forces. As people everywhere watch the world's great cities fall, Los Angeles becomes the last stand for mankind in a battle no one expected.
Status:
titlexxx - Battle: Los Angeles Movie Trailer
About the Movie
Battle: Los Angeles (also known as World Invasion: Battle Los Angeles outside the U.S.) is an upcoming 2011 action science fiction film directed by Jonathan Liebesman, and starring Aaron Eckhart, Michelle Rodriguez, Michael Peña, Ne-Yo, and Bridget Moynahan. Planned for release in March 2011, the film is set in modern day Los Angeles and follows a platoon of Marines and Airmen during a global alien invasion. The events of the film are inspired by The Battle of Los Angeles, a falsely suspected air raid of Los Angeles that took place during World War II.
---
Movie Reviews
Movie Review from EmpireOnline.com

There's one tiny, blink-and-you'll-miss-it moment in Battle Los Angeles which hints at an interesting film director Jonathan Liebesman – the man who brought you the Texas Chainsaw prequel and that Tooth Fairy movie Darkness Falls – chose not to make. Early on, a couple of grunts wonder aloud in thudding dialogue whether the aliens they're fighting are soldiers following orders just like them. Later, after much computer-game style ET-blasting carnage, there's a busy skirmish between Our Side (the US Marines, hoo-rah!) and Them (Evil Alien Bastards).

Read the Full Movie Review at EmpireOnline.com
Movie Review from TotalFilm.com

Locked and loaded from the off with explosions, fire-fights and close quarters combat, Jonathan Liebesman's film has a full clip of eye-singeing, ear-battering mayhem that should sate sci-fi junkies after a quick visceral fix. Yet it has a couple of dummy rounds as well: flatpack characters, stock dilemmas and dialogue so cornball you are only too happy to see it drowned out by heavy artillery. Outgunned, outnumbered and outmanoeuvred by a vastly superior force of indestructible space reptiles...

Read the Full Movie Review at TotalFilm.com
Movie Review from Hollywood.com

Power producer Neal Moritz' (Green Hornet, Fast & Furious) company is called Original Film, which is ironic because he hasn't made a truly unique motion picture in some time. His latest effort, Battle: Los Angeles, isn't groundbreaking by any stretch of the imagination, but packs enough punch to leave you saying, "Thank you sir, may I have another?" Jonathan Liebesman (The Texas Chainsaw Massacre: The Beginning) directs this massive movie about a race of aliens colonizing our planet, but as the title suggests, the action is centered on the City of Angels.

Read the Full Movie Review at Hollywood.com
Movie Review from Guardian.co.uk

Recently, we've seen films like District 9 and Monsters, which reimagined the aliens-from-space genre in smart, imaginative ways. This is back to the old school – daft, but it gives you a few bangs for your buck. Aaron Eckhart plays a tough-yet-troubled Marine sergeant who must find personal redemption by leading his men against a horde of yucky aliens attempting to invade Los Angeles. The aliens themselves look metallic and ungainly, as if about to transform into a Nissan Micra, with plenty of firepower.

Read the Full Movie Review at Guardian.co.uk
Movie Review from TimeOut.com

Fusing fierce close-quarter combat with an apocalyptic sci-fi scenario, Jonathan Liebesman's gung-ho war movie embeds us with a platoon of US marines fighting for survival during an alien invasion. The extraterrestrials are a highly trained fighting force, their destructive drone aircraft and heavily armoured infantry wreaking global havoc. With just three hours to go before an air strike destroys Santa Monica, veteran Marine staff sergeant Michael Nantz (Aaron Eckhart) and his team must extract some civilians from an abandoned police station and take them to safety.

Read the Full Movie Review at TimeOut.com
Movie Review from Movies.com

This is not your garden-variety, wisecracking hero-charms-the-pants-off-the-enemy, cutesy-wutesy action flick. This is a garden-variety war movie and the enemy is from another planet. It's more Hurt Locker than Independence Day. From beginning to end, this thing just keeps jackhammering at your nerves. Sure, there are a few moments of comic relief, both intended and not (Aaron Eckhart imploring a kid to be a "little Marine" is priceless), but mostly this film assaults you worse than the LAPD on a traffic stop in Watts.

Read the Full Movie Review at Movies.com
---
'Battle: Los Angeles' Stars
Aaron Eckhart, Bridget Moynahan, Cory Hardrict, Jonathan Liebesman, Michael Peña, Michelle Rodriguez, Will Rothhaar
---
'Battle: Los Angeles' Movie Links

Official Battle: Los Angeles Movie Website


Battle: Los Angeles on IMDb


Battle: Los Angeles on Wikipedia