---
Cirque du Freak: The Vampire's Assistant (2009)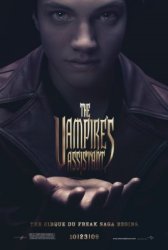 Starring: John C. Reilly, Josh Hutcherson, Chris Massoglia, Jessica Carlson, Michael Cerveris, Ray Stevenson, Patrick Fugit
Director: Paul Weitz
Release Date:

October 23rd, 2009
Release Date:

23rd October, 2009
Synopsis: The Vampire's Assistant, based on the popular series of books called The Saga of Darren Shan, is a fantasy-adventure about a teenager who unknowingly breaks a 200-year-old truce between two warring factions of vampires. Pulled into a fantastic life of misunderstood sideshow freaks and grotesque creatures of the night, one this teen vanishes from the safety of a boring existence to fulfil his destiny in a place drawn from nightmares. Sixteen-year-old Darren and his buddy stumble upon a traveling freak show, and things begin to change inside Darren. That's the moment when a vampire turns him. Newly undead, he joins the Cirque Du Freak, a touring sideshow filled with monstrous creatures from a snakeboy and a wolfman to a bearded lady and a gigantic barker. As Darren flexes his newfound powers in this dark world, he becomes a treasured pawn between the vampires and their deadlier counterparts.
Status:
Cirque du Freak: The Vampire's Assistant Movie Trailer
About the Movie
Cirque du Freak: The Vampire's Assistant is the 2009 American film adaptation of the first three books of the book series, The Saga of Darren Shan, by author Darren Shan. The movie began filming on February 8, 2008 in New Orleans and ended June 3, 2008. The film is distributed by Universal Studios. Some of the movie was filmed on a set constructed within New Orleans City Park, approximately 1000 feet off of the side of the road, along Harrison Avenue. The film was originally set for release on January 15, 2010, but was moved to October 23, 2009 in the USA.
---
'Cirque du Freak: The Vampire's Assistant' Stars
Chris Massoglia, Jessica Carlson, John C. Reilly, Josh Hutcherson, Michael Cerveris, Patrick Fugit, Paul Weitz, Ray Stevenson
---
'Cirque du Freak: The Vampire's Assistant' Movie Links

Official Cirque du Freak: The Vampire's Assistant Movie Website


Cirque du Freak: The Vampire's Assistant on IMDb