---
City of God (2002)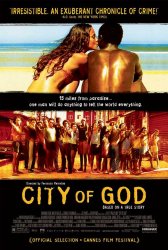 Starring: Alexandre Rodrigues, Leandro Firmino, Phellipe Haagensen, Douglas Silva, Jonathan Haagensen, Alice Braga
Director: Fernando Meirelles, Kátia Lund
Release Date:

January 17th, 2003
Release Date:

3rd January, 2003
Synopsis: Brazil, 1960's, City of God. The Tender Trio robs motels and gas trucks. Younger kids watch and learn well, too well. 1970's: Li'l Zé has prospered very well and owns the city. He causes violence and fear as he wipes out rival gangs without mercy. His best friend Bené is the only one to keep him on the good side of sanity. Rocket has watched these two gain power for years, and he wants no part of it. Yet he keeps getting swept up in the madness. All he wants to do is take pictures. 1980's: Things are out of control between the last two remaining gangs.
Status:
City of God Movie Trailer
About the Movie
City of God (Portuguese: Cidade de Deus) is a 2002 Brazilian crime drama film directed by Fernando Meirelles and Kátia Lund, released in its home country in 2002 and worldwide in 2003. It was adapted by Bráulio Mantovani from the 1997 novel of the same name written by Paulo Lins. It depicts the growth of organized crime in the Cidade de Deus suburb of Rio de Janeiro, between the end of the '60s and the beginning of the '80s, with the closure of the film depicting the war between the drug dealer Li'l Zé and criminal Knockout Ned. The tagline is "Fight and you'll never survive….. Run and you'll never escape."
The cast includes Alexandre Rodrigues, Leandro Firmino da Hora, Jonathan Haagensen, Douglas Silva, Alice Braga and Seu Jorge. Most of the actors were, in fact, residents of favelas such as Vidigal and the Cidade de Deus itself.
The film received four Academy Award nominations in 2004: Best Cinematography (César Charlone), Best Directing (Meirelles), Best Editing (Daniel Rezende) and Best Writing (Adapted Screenplay) (Mantovani). Before that, in 2003 it had been chosen to be Brazil's runner for the Academy Award for Best Foreign Language Film, but it was not nominated to be one of the five finalists.
Meirelles and Lund went on to create the City of Men TV series and film City of Men, which share some of the actors (notably leads Douglas Silva and Darlan Cunha) and their setting with City of God.
---
'City of God' Stars
Alexandre Rodrigues, Alice Braga, Douglas Silva, Fernando Meirelles, Jonathan Haagensen, Kátia Lund, Leandro Firmino, Phellipe Haagensen
---
'City of God' Movie Links

Official City of God Movie Website


City of God on IMDb