---
Clash of the Titans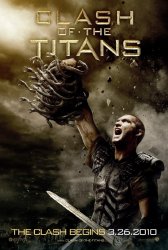 Starring: Sam Worthington, Ralph Fiennes, Liam Neeson, Gemma Arterton, Nicholas Hoult, Alexa Davalos, Danny Huston, Izabella Miko, Jason Flemyng, Pete Postlethwaite
Director: Louis Leterrier
Release Date:

April 2nd, 2010
Release Date:

2nd April, 2010
Synopsis: Born of a god but raised as a man, Perseus is helpless to save his family from Hades, vengeful god of the underworld. With nothing left to lose, Perseus volunteers to lead a dangerous mission to defeat Hades before he can seize power from Zeus and unleash hell on earth. Leading a daring band of warriors, Perseus sets off on a perilous journey deep into forbidden worlds. Battling unholy demons and fearsome beasts, he will only survive if he can accept his power as a god, defy his fate and create his own destiny.
Status:
Clash of the Titans Movie Trailer
About the Movie
Clash of the Titans is an upcoming 2010 fantasy film which is a remake of the 1981 film of the same name, itself loosely based on the Greek myth of Perseus. Directed by Louis Leterrier and starring Sam Worthington, the film is set to be released in 3-D on April 2, 2010.
---
'Clash of the Titans' Stars
Alexa Davalos, Danny Huston, Gemma Arterton, Izabella Miko, Jason Flemyng, Liam Neeson, Louis Leterrier, Nicholas Hoult, Pete Postlethwaite, Ralph Fiennes, Sam Worthington
---
'Clash of the Titans' Movie Links

Official Clash of the Titans Movie Website


Clash of the Titans on IMDb