---
Crank: High Voltage (2009)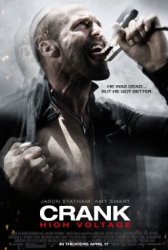 Starring: Jason Statham, Amy Smart, Mandy Amano, Chester Bennington, Janna Beth, Sorana Black, David Carradine
Director: Mark Neveldine, Brian Taylor
Release Date:

April 17th, 2009
Release Date:

16th April, 2009
Synopsis: Picking up immediately after he hits the ground at the end of Crank, Chev Chelios is kidnapped by a gang of Chinese medics. On an operating table, they attempt to harvest his organs. But after they remove his heart and replace it with an electronic temporary one, Chev wakes up and kills the medics. He then has to chase after the gang who has stolen his heart.
Status:
Crank: High Voltage Movie Trailer
About the Movie
Crank: High Voltage, sometimes promoted as Crank 2: High Voltage on some regions and on DVD, is a 2009 American action/thriller film, and sequel to the 2006 action film, Crank. The story of the film resumes shortly after the first film left off, retaining its "real-time" presentation and adding more special effects. Crank: High Voltage was written and directed by Mark Neveldine and Brian Taylor, who both wrote and directed the previous film. The film was released in the United Kingdom on April 16, 2009, one day prior to its North American release date.
---
'Crank: High Voltage' Stars
Amy Smart, Brian Taylor, Chester Bennington, David Carradine, Janna Beth, Jason Statham, Mandy Amano, Mark Neveldine, Sorana Black
---
'Crank: High Voltage' Movie Links

Official Crank: High Voltage Movie Website


Crank: High Voltage on IMDb