---
Donnie Darko (2001)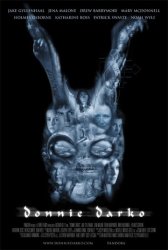 Starring: Jake Gyllenhaal, Jena Malone, Drew Barrymore, Mary McDonnell, Holmes Osborne, Katharine Ross, Patrick Swayze, Noah Wyle, Maggie Gyllenhaal
Director: Richard Kelly
Release Date:

October 28th, 2001
Release Date:

25th October, 2002
Synopsis: Troubled adolescent, Donnie Darko, receives a disturbing vision that the world will end in 28 days. With the help of various characters, including a 6 foot rabbit called Frank, he slowly discovers the mysterious physical and metaphysical laws that govern his life and that will lead up to the destruction of the universe.
Status:
Donnie Darko Movie Trailer
About the Movie
Donnie Darko is a 2001 American science fiction film written and directed by Richard Kelly. The film stars Jake Gyllenhaal, Drew Barrymore, Patrick Swayze, Maggie Gyllenhaal, Noah Wyle, Jena Malone, and Mary McDonnell, and depicts the reality-bending adventures of the title character as he seeks the meaning and significance behind his troubling Doomsday-related visions.
The film was initially slated for a direct-to-video release before being picked up by Newmarket Films. Budgeted with $4.5 million and filmed over the course of 28 days, the film missed breaking even, grossing just over $4.1 million worldwide. Since then, the film has received favorable reviews from critics and developed a large cult following, resulting in the director's cut receiving a two-disc, special edition release in 2004.
---
'Donnie Darko' Stars
Drew Barrymore, Holmes Osborne, Jake Gyllenhaal, Jena Malone, Katharine Ross, Maggie Gyllenhaal, Mary McDonnell, Noah Wyle, Patrick Swayze, Richard Kelly
---
'Donnie Darko' Movie Links

Official Donnie Darko Movie Website


Donnie Darko on IMDb