---
Enter the Void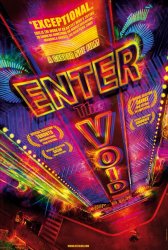 Starring: Nathaniel Brown, Paz de la Huerta, Cyril Roy, Olly Alexander, Masato Tanno, Ed Spear
Director: Gaspar Noé
Release Date:

September 17th, 2010
Release Date:

24th September, 2010
Synopsis: After living in Japan for some time and finding employment as a drug dealer, a brother sends for his sister to move Japan and live with him. The setting is the Japanese redlight district of the very near future. The sister gets involved with sex and drugs and the brother lives dangerously. With their parents gone from a horrible car crash, all these two really have is each other in an exploitive world.
Status:
Enter the Void Movie Trailer
About the Movie
Enter the Void is a French film written and directed by Gaspar Noé, labeled by Noé as a "psychedelic melodrama". The story is set in Tokyo and focuses on Oscar, a young American drug dealer who gets killed and watches over his sister Linda as a ghost. Nathaniel Brown stars in his debut role with Paz de la Huerta as the sister. The camera follows Oscar from behind his head during scenes in which he is alive. After his death, the view hovers over Tokyo through walls and across buildings.
The film makes heavy use of visuals inspired by experimental cinema and psychedelic drug experiences, and explores fantasies about the human afterlife. Having been the director's dream project for many years, the film was made possible due to the commercial success of Irréversible, the previous feature film by Noé. Enter the Void premiered at the 2009 Cannes Film Festival and was after several recuts released in France almost one year later. A cut down version will be released in the United States and United Kingdom in September 2010.
---
Movie Reviews
Movie Review from EmpireOnline.com

Like Noé provocation Irreversible, Enter The Void is technically stunning, a kaleidoscopic head-fuck of extreme cinema that pulls in everything from 1947 POV noir The Lady In The Lake to the space trips of Kubrick's 2001. It's also dreadfully acted, tediously 'profound' and painfully overlong. Shot through the eyes of young drug dealer Oscar (Nathaniel Brown) tripping in a Tokyo apartment, the prologue pulses with colour-saturated power. But when Oscar is shot, his 'spirit'/the camera soars above city streets, into his past and inside the heads of friends.

Read the Full Movie Review at EmpireOnline.com
Movie Review from TotalFilm.com

The corpse of a young man lies foetal and final, curled around the toilet bowl in a Tokyo drug dive. This was Oscar (Nathaniel Brown), an American-born petty dealer, cornered and shot by twitchy cops. The blood puddling around his crumpled body is laced with hallucinogens. Oscar is a lowlife who died high, leaving behind Linda (Paz de la Huerta), the stripper sister he'd pledged to support after their childhoods were checked by the death of their parents. Most films would now cut to the remaining living characters as they sift through the aftermath. But Gaspar Noe is not most filmmakers.

Read the Full Movie Review at TotalFilm.com
Movie Review from Guardian.co.uk

It has been eight years now since Gaspar Noé released his notorious rape-revenge film Irréversible, an ultra-violent, ultra-extreme movie that effortlessly exceeded in shock value anything, by anyone, at any time. I myself, having admired his previous feature, Seul Contre Tous, reacted fiercely against it as a piece of macho provocation. Rereading my review now, I find none of its points wrong exactly, but I have to concede the possibility that I was just freaked out in precisely the way Noé intended.

Read the Full Movie Review at Guardian.co.uk
Movie Review from Movies.com

French director Gaspar Noe is the kind of guy who seems to believe that just because you're a nihilist doesn't mean you should give up the pursuit of a demented kind of ecstasy. So he packs his movie from start to finish with a nonstop stream of visual assaults on your senses, some of them so overwhelming, strobe-like and equilibrium-testing they should come with motion sickness and seizure warnings. Stretches of its two hour and twenty-minute running time are peaceful and dreamy, but you can't trust that to go on for long or you'll wind up jumping out of your seat.

Read the Full Movie Review at Movies.com
Movie Review from Telegraph.co.uk

Enter the Void is brilliant. It's also smug, terribly acted, dramatically inert, and jaw-droppingly stupid. Oh yes, and for long sections, it's deeply boring. As such, it's business as usual for its French-Argentinian director Gaspar Noe. His previous films, among them I Stand Alone and Irreversible, were audio-visual affronts that used violent sex, strobe effects and punitive sound design to intense and morally ambiguous ends. Nathaniel Brown play Oscar, a young American drug dealer in Tokyo who's joined there by his sister Linda (Paz de la Huerta).

Read the Full Movie Review at Telegraph.co.uk
---
'Enter the Void' Stars
Cyril Roy, Ed Spear, Gaspar Noé, Masato Tanno, Nathaniel Brown, Olly Alexander, Paz de la Huerta
---
'Enter the Void' Movie Links

Enter the Void on IMDb