---
Fred: The Movie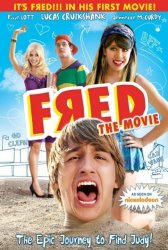 Starring: Lucas Cruikshank, Jennette McCurdy, Jake Weary, Siobhan Fallon, John Cena
Director: Clay Weiner
Release Date:

September 18th, 2010
Release Date:

17th December, 2010
Synopsis: This is the story of Fred as he goes through a weekend trying to find how to get Judy to fall in love with him. He has to deal with Kevin bulling him and various problems trying to get Judy to come over to his house.
Status:
Fred: The Movie Movie Trailer
About the Movie
Fred: The Movie is a 2010 made-for-television independent comedy film written by David A. Goodman, directed by Clay Weiner, and produced by Brian Robbins and Gary Binkow. The film is based on the adventures of Fred Figglehorn, a character created and played by Lucas Cruikshank for Cruikshank's YouTube channel. The film casts Siobhan Fallon Hogan and John Cena as Fred's parents and pop singer and actress Pixie Lott as Fred's crush. First optioned as a theatrical release in the United States, the film instead premiered on Nickelodeon, a television channel, on September 18, 2010.
In the United Kingdom and Ireland, the film will be released theatrically on December 17, 2010. The film was rated 12A by the British Board of Film Classification, restricting the movie's target audience from seeing it unaccompanied.
---
Movie Reviews
Movie Review from EmpireOnline.com

Fred is Lucas Cruickshank's brainchild; a webcam-savvy kid with a hyper-spasticity for calling dogs "squirrels" and showering in a car wash. A YouTube sensation, his three-minute freak-outs are here extended by a further 80 minutes. A puerile 'plot' sees Fred stalking melodious Judy (popstrel Pixie Lott). But Lott's girl-next-door no longer lives… next door. Fred, who rescues her (from next next door) goes, like, SCHIZ, in ways unseen since Linda Blair rode a mechanical bed. The main event — Fred's offensive 'voice' — is on a torturous par with Crazy Frog. Singing Aqua. At Guantanamo. Debuting Stateside on Nickelodeon, Fred gets cinematic release here; something even less explicable than his 1.8 million YouTube subscribers.

Read the Full Movie Review at EmpireOnline.com
Movie Review from TotalFilm.com

Rejoice! Helium-voiced YouTube sensation Fred Figglehorn (Lucas Cruikshank) gets his own movie, which sees the troublesome teen vie with bully Kevin (Jake Weary) for the affections of girl-next-door Judy (pop star Pixie Lott, looking uncomfortable). Screeching like a slasher-flick victim, Cruikshank treats us to an increasingly moronic series of pratfalls which promote kid-friendly ideals like junk food, xenophobia and the joys of playing with electric cables. Even young fans of the online shorts will find the concept stretched perilously thin. And if your eardrums don't break, your spirit certainly will.

Read the Full Movie Review at TotalFilm.com
Movie Review from Guardian.co.uk

The YouTube phenomenon about the teenage dork called Fred with the speeded-up voice has been expanded to a feature-length movie: and it's an ordeal worthy of comparison with Tom Green's notorious comedy Freddy Got Fingered. The big deal is that voice: an ingenious trick on the web perhaps, but here it wears thin after the first billionth of a second. It sounds a bit like Pinky, or perhaps Perky, or possibly Gene Wilder's moment of hysteria in The Producers. ("My blue blanket! I'm wet! I'm wet and I'm hysterical!") There is one sort-of reasonable joke about the Marriott hotel. Otherwise this is one to miss.

Read the Full Movie Review at Guardian.co.uk
---
'Fred: The Movie' Stars
Clay Weiner, Jake Weary, Jennette McCurdy, John Cena, Lucas Cruikshank, Siobhan Fallon
---
'Fred: The Movie' Movie Links

Fred: The Movie on IMDb