---
I Love You, Man (2009)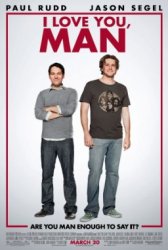 Starring: Paul Rudd, Jason Segel, Jon Favreau, Jaime Pressly, Carla Gallo, Lou Ferrigno, Rashida Jones
Director: John Hamburg
Release Date:

March 20th, 2009
Release Date:

17th April, 2009
Synopsis: Peter Klaven's world revolves around his real estate work and Zooey, his soon-to-be fiancée. After he pops the question, she calls her best friends and they go into wedding planning mode. Peter has no male friends and that poses problems: will he turn out to be a clingy guy, and who will be his best man? Zooey, her friends, and Peter's brother Robbie offer help that results in awkward moments. Then, at an open house Peter's hosting, he meets Sydney, an amiable, low-key guy. They trade business cards, and Peter calls him to meet for drinks. A friendship develops that's great at first but then threatens Peter's engagement and career.
Status:
I Love You, Man Movie Trailer
About the Movie
I Love You, Man is a 2009 American comedy film originally titled Let's be Friends and written by Larry Levin before John Hamburg rewrote and directed the film. Starring Paul Rudd, Jason Segel, and Rashida Jones the film focuses on Peter's (Rudd) lack of male friends and the bond that forms between him and Sydney (Segel).
The film was released theatrically in North America on March 20, 2009, to mostly positive reviews and took second spot in the box office during its opening week (to Knowing). The film was released on home video on August 11, 2009.
---
'I Love You, Man' Stars
Carla Gallo, Jaime Pressly, Jason Segel, John Hamburg, Jon Favreau, Lou Ferrigno, Paul Rudd, Rashida Jones
---
'I Love You, Man' Movie Links

I Love You, Man on IMDb