---
Ice Age: Dawn of the Dinosaurs (2009)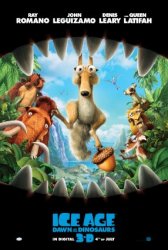 Starring: Simon Pegg, Seann William Scott, Denis Leary, John Leguizamo, Joey King, Queen Latifah, Ray Romano
Director: Carlos Saldanha, Mike Thurmeier
Release Date:

July 1st, 2009
Release Date:

1st July, 2009
Synopsis: After the events of "Ice Age: The Meltdown", life begins to change for Manny and his friends: Scrat is still on the hunt to hold onto his beloved acorn. Manny and Ellie are expecting a baby, which leaves Manny anxious to ensure that everything is perfect for when his baby arrives. Diego is fed up with being treated like a house-cat and ponders the notion that he is becoming too laid-back. Sid begins to wish for a family of his own, and so steals some dinosaur eggs which leads to Sid ending up in a strange underground world where his herd must rescue him.
Status:
Ice Age: Dawn of the Dinosaurs Movie Trailer
About the Movie
Ice Age: Dawn of the Dinosaurs also known as Ice Age 3 is an upcoming computer animated film that will be the third and final installment of the Ice Age film series. It was announced and approved by Fox president Hutch Parker on January 30, 2007. It will be released in RealD where available. It was initially slated for a December 12, 2008 release, but the scheduled release date has since been moved to July 1, 2009. The film is being produced by Blue Sky Studios and will be distributed by 20th Century Fox.
---
'Ice Age: Dawn of the Dinosaurs' Stars
Carlos Saldanha, Denis Leary, Joey King, John Leguizamo, Mike Thurmeier, Queen Latifah, Ray Romano, Seann William Scott, Simon Pegg
---
'Ice Age: Dawn of the Dinosaurs' Movie Links

Official Ice Age: Dawn of the Dinosaurs Movie Website


Ice Age: Dawn of the Dinosaurs on IMDb