---
I'm Still Here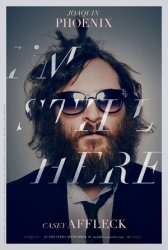 Starring: Joaquin Phoenix, Antony Langdon
Director: Casey Affleck
Release Date:

September 10th, 2010
Release Date:

17th September, 2010
Synopsis: I'm Still Here is a portrayal of a tumultuous year in the life of actor Joaquin Phoenix. With remarkable access, the documentary follows the Oscar-nominee as he announces his retirement from a successful film career in the fall of 2008 and sets off to reinvent himself as a hip hop musician. The film is a portrait of an artist at a crossroads and explores notions of courage and creative reinvention, as well as the ramifications of a life spent in the public eye.
Status:
I'm Still Here Movie Trailer
About the Movie
I'm Still Here is an upcoming American documentary film directed by Casey Affleck, and written by Affleck and Joaquin Phoenix. The film follows the life of American actor Joaquin Phoenix, from the announcement of his retirement from acting through his transition into a career as a hip hop artist. Filming officially began on January 16, 2009 at a Las Vegas nightclub.
The film will premiere at the Venice Film Festival on September 6, 2010. It will have a limited release in the United States on September 10, 2010 before being expanded to a wide release a week later on September 17.
---
Movie Reviews
Movie Review from EmpireOnline.com

Is it or isn't it? Well, casey Affleck's long-promised "documentary" about Joaquin Phoenix's apparent public meltdown of 2008 has a heavy whiff of hoax about it. Starting with the actor's anguished claims that he has lost his sense of identity, followed by his supposedly off-the-cuff decision to announce that he is quitting acting for good, the film follows his attempts to redefine his career as a rap artist, with a little help from hip-hop legend P Diddy.

Read the Full Movie Review at EmpireOnline.com
Movie Review from TotalFilm.com

When a bearded and bedraggled Joaquin Phoenix appeared on David Letterman's show last year, many thought he was on a fast track to oblivion.
But as his brother-in-law Casey Affleck's often hilarious documentary reminds us, he's still here. As what, though?
Beginning in September 2008, Affleck charts six particularly turbulent months in Phoenix's life as he announces that he's sick of the biz of show. "I don't want to play the character of Joaquin anymore," he says.

Read the Full Movie Review at TotalFilm.com
Movie Review from Hollywood.com

Much of the discussion regarding I'm Still Here, Casey Affleck's chronicle of his brother-in-law Joaquin Phoenix's abrupt retirement from film and subsequent attempt to reinvent himself as a rapper, has until now centered on whether or not the whole ordeal was a hoax. The answer, arriving shortly into the film's running time, is an emphatic yes. It's definitely a joke, and its punchline goes something like this: The only thing more pathetic than a bloated, slurring, entitled actor in the midst of a creative crisis is a person willing to spend two hours watching a ponderous, pointless documentary about said actor. The joke's on us; I suspect it always has been.

Read the Full Movie Review at Hollywood.com
Movie Review from Guardian.co.uk

Ever since actor and film-maker Casey Affleck unveiled this movie, apparently a documentary about a troubled Joaquin Phoenix quitting Hollywood to pursue a career in hip-hop, audiences have been intrigued by a profound ambiguity at the film's very heart. Is it a hoax or a spoof? Is it an obvious wind-up, or a palpable put-on? Is it outrageously and continuously fake, or is it, on the other hand, flagrantly and persistently inauthentic? Well, it is funny. We join the story in 2008, just after Joaquin Phoenix completed work on James Gray's drama Two Lovers, and Affleck's handheld camera now captures a shocking transformation in the star.

Read the Full Movie Review at Guardian.co.uk
Movie Review from TimeOut.com

There was talk of Joaquin Phoenix going off the rails – behaving oddly in interviews, checking into rehab – long before news broke that this intimate doc by his brother-in-law, Casey Affleck, charting a whacked-out, hairy and fat Phoenix's withdrawal from acting during 2008 and subsequent laughable attempt to become a rapper, might be a hoax.
What's clear from watching the film, which is presented as an up-close, fly-on-the-wall doc, following Phoenix at home in New York and Los Angeles, is that while its motivations might have been genuine, its execution is wobbly.

Read the Full Movie Review at TimeOut.com
Movie Review from Movies.com

This movie is either real or it's fake and I don't care which one of those truths emerges because the fate of Joaquin Phoenix's career is of very little personal consequence to me. I'm a big fan of Walk The Line and his performance in it, but it seems to me that if a comparative judgment is to be made, and if this film is a true documentation of his recent life, then it would be better for everyone who likes him in movies, not least of all himself on and off camera, if JP could find a way move out of the "Drug Johnny" phase of his own life and into the part at the end I like to call "Contented While Holding a Bucket of Fried Chicken Johnny."

Read the Full Movie Review at Movies.com
Movie Review from Telegraph.co.uk

From the very start, Joaquin Phoenix has led a life less ordinary. He was born in Puerto Rico to a pair of Children of God missionaries, who traipsed through Central and South America before ending up in LA, where Joaquin (aged six) and his four siblings were all launched on showbiz careers. Older brother River became a star but was dead from drug abuse by the age of 23, while Joaquin, still in his teens, "retired" temporarily following his breakthrough performance in Parenthood (1989).

Read the Full Movie Review at Telegraph.co.uk
---
'I'm Still Here' Stars
Antony Langdon, Casey Affleck, Joaquin Phoenix
---
'I'm Still Here' Movie Links

I'm Still Here on IMDb