---
Mirror Mirror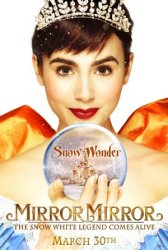 Starring: Julia Roberts, Lily Collins, Armie Hammer, Nathan Lane, Jordan Prentice
Director: Tarsem Singh
Release Date:

March 30th, 2012
Release Date:

2nd April, 2012
Running Time: 106 Mins
Synopsis: An evil queen steals control of a kingdom and an exiled princess enlists the help of seven resourceful rebels to win back her birthright.
Status:
titlexxx - Mirror Mirror Movie Trailer
About the Movie
Mirror Mirror is a comedy fantasy film based on "Snow White" by the Brothers Grimm. It is directed by Tarsem Singh and stars Lily Collins, Julia Roberts, Armie Hammer, Nathan Lane, and Sean Bean.
---
'Mirror Mirror' Stars
Armie Hammer, Jordan Prentice, Julia Roberts, Lily Collins, Nathan Lane, Tarsem Singh
---
'Mirror Mirror' Movie Links

Official Mirror Mirror Movie Website


Mirror Mirror on IMDb


Mirror Mirror on Wikipedia