---
Public Enemies (2009)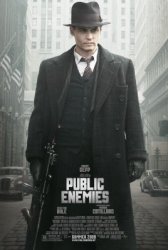 Starring: Christian Bale, Johnny Depp, Channing Tatum, Billy Crudup, Leelee Sobieski, Emilie de Ravin, Giovanni Ribisi, David Wenham, Stephen Dorff
Director: Michael Mann
Release Date:

July 1st, 2009
Release Date:

1st July, 2009
Synopsis: This is the story of the last few years of the notorious bank robber John Dillinger. He loved what he did and could imagine little else that would make him happier. Living openly in 1930s Chicago, he had the run of the city with little fear of reprisals from the authorities. It's there that he meets Billie Frechette with whom he falls deeply in love. In parallel we meet Melvin Purvis, the FBI agent who would eventually track Dillinger down. The FBI was is in its early days and Director J. Edgar Hoover was keen to promote the clean cut image that so dominated the organization through his lifetime. Purvis realizes that if he is going to get Dillinger, he will have to use street tactics and imports appropriate men with police training. Dillinger is eventually betrayed by an acquaintance who tells the authorities just where to find him on a given night.
Status:
Public Enemies Movie Trailer
About the Movie
Public Enemies is a 2009 film adaptation of Bryan Burrough's book Public Enemies: America's Greatest Crime Wave and the Birth of the FBI, 1933–34 directed by Michael Mann.
The crime drama is set during the Great Depression with the focus on the FBI agent Melvin Purvis's attempt to stop criminals John Dillinger, Baby Face Nelson, and Pretty Boy Floyd. Christian Bale will play FBI agent Purvis, Johnny Depp will play Dillinger, Marion Cotillard will play Dillinger's girlfriend Billie Frechette, and Channing Tatum will play Pretty Boy Floyd. Principal photography began in Columbus, Wisconsin on March 17, 2008 and wrapped in Chicago, Illinois; Oshkosh, Wisconsin; Milwaukee, Wisconsin; Madison, Wisconsin; and several other places in Wisconsin until the end of June 2008, including the famous Little Bohemia Lodge in Manitowish Waters, Wisconsin, the actual location of a 1934 gun fight between Dillinger and the FBI. Some parts of the film were shot in Crown Point, Indiana, the town where Dillinger was imprisoned and subsequently escaped from jail.
---
'Public Enemies' Stars
Billy Crudup, Channing Tatum, Christian Bale, David Wenham, Emilie de Ravin, Giovanni Ribisi, Johnny Depp, Leelee Sobieski, Michael Mann, Stephen Dorff
---
'Public Enemies' Movie Links

Official Public Enemies Movie Website


Public Enemies on IMDb