---
Requiem for a Dream (2000)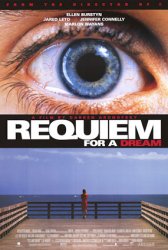 Starring: Ellen Burstyn, Jared Leto, Jennifer Connelly, Marlon Wayans, Christopher McDonald
Director: Darren Aronofsky
Release Date:

October 27th, 2000
Release Date:

19th January, 2001
Synopsis: The film depicts the lives of four different people living in Brooklyn on their quest for satisfaction in life. It shows the direct and indirect effects that drugs and various addictions have on each of the individuals, and then portrays their downward spirals from the hopes of blossoming dreams into the helpless state of moral and physical decay.
Status:
Requiem for a Dream Movie Trailer
About the Movie
Requiem for a Dream is a 2000 film adaptation of the 1978 novel of the same name. The novel was written by Hubert Selby, Jr.; the film adaptation was directed by Darren Aronofsky, and starred Ellen Burstyn, Jared Leto, Jennifer Connelly, and Marlon Wayans. Burstyn was nominated for an Academy Award for Best Actress for her performance. The film was screened out of competition at the 2000 Cannes Film Festival.
The film depicts different forms of addiction, leading to the characters' imprisonment in a dream world of delusion and reckless desperation that is subsequently overtaken and devastated by reality.
---
'Requiem for a Dream' Stars
Christopher McDonald, Darren Aronofsky, Ellen Burstyn, Jared Leto, Jennifer Connelly, Marlon Wayans
---
'Requiem for a Dream' Movie Links

Official Requiem for a Dream Movie Website


Requiem for a Dream on IMDb