---
Schindler's List (1993)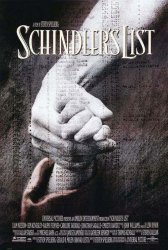 Starring: Liam Neeson, Ben Kingsley, Ralph Fiennes, Caroline Goodall, Jonathan Sagall, Embeth Davidtz
Director: Steven Spielberg
Release Date:

December 15th, 1993
Release Date:

18th February, 1994
Synopsis: Oskar Schindler is a vain, glorious and greedy German businessman who becomes unlikely humanitarian amid the barbaric Nazi reign when he feels compelled to turn his factory into a refuge for Jews. Based on the true story of Oskar Schindler who managed to save about 1100 Jews from being gassed at the Auschwitz concentration camp.
Status:
Schindler's List Movie Trailer
About the Movie
Schindler's List is a 1993 American war-drama film about Oskar Schindler, a German businessman who saved the lives of more than a thousand Polish Jewish refugees during the Holocaust by employing them in his factories. The film was directed by Steven Spielberg and based on the novel Schindler's Ark by Thomas Keneally. It stars Liam Neeson as Schindler, Ralph Fiennes as Schutzstaffel (SS) officer Amon Göth, and Ben Kingsley as Schindler's Jewish accountant Itzhak Stern.
The film was a box office success and recipient of seven Academy Awards, including Best Picture, Best Director, and Best Original Score, as well as numerous other awards (7 BAFTA, 3 Golden Globes). In 2007, the American Film Institute (AFI) ranked the film 8th on its list of the 100 best American films of all time (up one position from its 9th place listing on the 1998 list).
---
'Schindler's List' Stars
Ben Kingsley, Caroline Goodall, Embeth Davidtz, Jonathan Sagall, Liam Neeson, Ralph Fiennes, Steven Spielberg
---
'Schindler's List' Movie Links

Official Schindler's List Movie Website


Schindler's List on IMDb