---
Skyline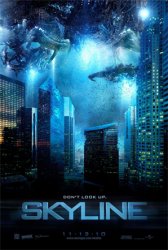 Starring: Eric Balfour, Scottie Thompson, David Zayas, Donald Faison, Brittany Daniel, Crystal Reed
Director: Colin Strause, Greg Strause
Release Date:

November 12th, 2010
Release Date:

12th November, 2010
Synopsis: After a night of partying, a group of friends are distracted when beams of light awaken everyone in Los Angeles, that then attracts every person like a moth to a flame. As the night progresses, they soon discover that once addicted to the light you vanish into thin air, and that extraterrestrial forces are begining to swallow the entire human race.
Status:
About the Movie
Skyline is an upcoming science fiction thriller film directed and produced by the Brothers Strause. It stars Eric Balfour, Scottie Thompson, Donald Faison and David Zayas.
---
Movie Reviews
Movie Review from EmpireOnline.com

The brain-eaters from outer space are back, en masse, in Skyline – which has the sort of extensive special effects you'd expect from a big budget studio film wedded to the sort of production which toplines Eric Balfour and Scotty Thompson. Colin and Greg Strause have a background in visual effects on major pictures like Iron Man 2, Avatar and The Curious Case of Benjamin Button, but their sole previous directorial effort was the hardly earth-shaking AVPR: Aliens vs Predator Requiem.

Read the Full Movie Review at EmpireOnline.com
Movie Review from TimeOut.com

Let's get one thing clear right from the off: 'Skyline' is a terrible, terrible movie. The dialogue is abysmal ('Vaya con dios, you son of a bitch!'), the acting is even worse, the bulk of the story takes place in one LA penthouse and the plot makes absolutely no sense. For a good 45 minutes, very little happens: our heroes, Jarrod (TV veteran Eric Balfour) and his girlfriend Elaine (Scotty Thompson) arrive in LA for the birthday bash of their successful effects-designer pal Terry (Donald Faison), but just as they're beginning to settle into the Hollywood lifestyle, wouldn't you know it, aliens invade.

Read the Full Movie Review at TimeOut.com
Movie Review from Movies.com

This pretty awful movie is from a team of visual effects-making brothers, Colin and Greg Strause, who've been making stuff look awesome for several years now. And they're getting better as feature directors (their last one was the barfy AVPR: Aliens vs. Predator–Requiem). Now, when I say "better" I don't mean that this one is any good. It's just not as bad as AVPR. These guys love to make monsters and it shows, because the aliens are beautifully designed, like asymmetrical Frank Gehry buildings with tentacles. And the effects are impressively crushing, loud and fireballish.

Read the Full Movie Review at Movies.com
Movie Review from Telegraph.co.uk

In Skyline, tentacled aliens make the odd, one could even say misjudged, decision to harvest the brains of everyone in Los Angeles. This besieging race look as if they're doing well enough without the grey matter of the lead actors (Eric Balfour, Scottie Thompson). They elegantly float around, shining hypnotic blue lights into skyscrapers, and can even repair their mothership in a matter of minutes when it gets nuked to a crisp. All this is to say that the filmmakers, who go by the unavoidably silly name of The Brothers Strause, have put more thought into designing their invasion than scripting it; their background in visual effects (2012, Avatar) and previous directing credit (Aliens vs Predator: Requiem) make it entirely clear where these priorities lie.

Read the Full Movie Review at Telegraph.co.uk
---
'Skyline' Stars
Brittany Daniel, Colin Strause, Crystal Reed, David Zayas, Donald Faison, Eric Balfour, Greg Strause, Scottie Thompson
---
'Skyline' Movie Links

Skyline on IMDb