---
Step Up 3D (2010)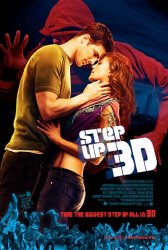 Starring: Rick Malambri, Adam G. Sevani, Sharni Vinson, Alyson Stoner, Keith Stallworth, Kendra Andrews
Director: Jon Chu
Release Date:

August 6th, 2010
Release Date:

6th August, 2010
Synopsis: A tight-knit group of New York City street dancers, including Luke and Natalie, team up with NYU freshman Moose, and find themselves pitted against the world's best hip hop dancers in a high-stakes showdown.
Status:
About the Movie
Step Up 3D is the third installment in the Step Up film series. The film was directed by Jon Chu, who also worked on the previous film Step Up 2: The Streets. Step Up 3D was released in conventional 2-D, Real D 3D, XpanD 3D and Dolby 3D formats on August 6, 2010. It is also the second movie which features the 7.1 Surround Sound audio format, the first was Toy Story 3. The story line features Camille Gage (Tyler Gage from "Step Up 1″ little sister) and Robert "Moose" Alexander III (From "Step Up 2″) as they head to University in New York. Promising his mother that he would not dance anymore "Moose" heads into a career in electrical engineering. Not one day after being at University does Moose stumble upon a dance battle where he meets Luke the head of the "Pirate Dance Crew". Moose struggles to balance dance, school and his friendship with Camille.
---
Movie Reviews
Movie Review from EmpireOnline.com

It's the usual case of great dancing, ropey script in this third in the US streetdance series. The good news is it stars the best thing about Step Up 2: the genial Adam G. Sevani as gangly geek Moose, who happens to be a whizz on the dancefloor (think Michael Cera in product placement trainers). Bad news is he is joined by blank-faced hunk Rick Malambri as Luke, the unlikely-looking leader of The Pirates, a crew gunning for the big competition prize.

Read the Full Movie Review at EmpireOnline.com
Movie Review from TotalFilm.com

Despite some savage reviews, this by-numbers dance-rom stormed the US box office – proving no matter how derivative, star-crossed love on the dance floor is pure teenage catnip. Face-to-watch Channing Tatum busts moves and scowls sexily as delinquent hood Tyler, who's forced to do community service at an unrealistic arts school where pupils pay in sweat and put on a choreographed show at the drop of a hat.

Read the Full Movie Review at TotalFilm.com
Movie Review from Hollywood.com

Director Anne Fletcher is no stranger to the dancing, having choreographed films such as The 40 Year-Old Virgin and The Longest Yard. With her first feature film effort, Fletcher does a good job showing the differences between Tyler and Nora's styles–his dangerous and street-wise, hers safe and proper.

Read the Full Movie Review at Hollywood.com
Movie Review from Guardian.co.uk

Trailing behind Britain's own Streetdance as the first 3D dance-battle movie, this third chunk of the Step Up series tries to make up for it with a high-sheen gloss that our chaps just can't compete with. A sliver of plot – a bunch of hip-hop kids have to win the world championship to avoid being thrown out of the plushly appointed warehouse walk-up they live in – doesn't really distract from the main business: slamming bodies and low-slung trousers, crotch-grabbing and head-spinning.

Read the Full Movie Review at Guardian.co.uk
Movie Review from TimeOut.com

Street-dancing films should come with their own rating category: not suitable for over-15s. This one, number three in the franchise, is filmed like a deodorant ad – with the same nuances of character and story. It follows Moose (Adam G Sevani), a dancer who arrives in New York to start university after promising his parents to hang up his Nikes.

Read the Full Movie Review at TimeOut.com
Movie Review from Movies.com

That one twerpy kid from Step Up 2: The Streets goes to NYU and vows to swear off all that crazy dancing in favor of studying electrical engineering. Almost immediately he's drawn back into the world of aggressively angry dance battles thanks to this other guy, an annoying filmmaker running around with a video camera extracting dancing-is-my-life confessionals from everyone he meets.

Read the Full Movie Review at Movies.com
---
'Step Up 3D' Stars
Adam G. Sevani, Alyson Stoner, Jon Chu, Keith Stallworth, Kendra Andrews, Rick Malambri, Sharni Vinson
---
'Step Up 3D' Movie Links

Step Up 3D on IMDb