---
StreetDance 2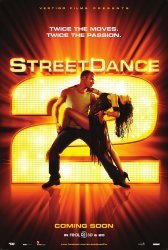 Starring: Sofia Boutella, Falk Hentschel, Flawless, George Sampson
Director: Max Giwa, Dania Pasquini
Release Date:

30th March, 2012
Running Time: 85 Mins
Synopsis: After suffering humiliation by the crew Invincible, street dancer Ash (Hentschel) looks to gather the best dancers from around the world for a rematch.
Status:
titlexxx - StreetDance 2 Movie Trailer
About the Movie
StreetDance 2 is the sequel to box office smash StreetDance 3D which was released on 21 May 2010. The film will be released in RealD 3D, XpanD 3D, and Dolby 3D with Max Giwa and Dania Pasquini returning to directing. Britain's Got Talent stars George Sampson and Flawless return to the fold along with phenomenal Hip-hop dancer Sofia Boutella (backing dancer for Madonna and face of Nike) and Falk Hentschel. The cast also features world-famous b-boys such as Lilou, Niek, and Yaman.
The film is a production of Vertigo Films in association with BBC Films.
---
'StreetDance 2' Stars
Dania Pasquini, Falk Hentschel, Flawless, George Sampson, Max Giwa, Sofia Boutella
---
'StreetDance 2' Movie Links

Official StreetDance 2 Movie Website


StreetDance 2 on IMDb


StreetDance 2 on Wikipedia