---
Survival of the Dead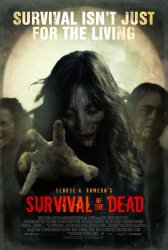 Starring: Alan Van Sprang, Kenneth Welsh, Kathleen Munroe, Devon Bostick, Richard Fitzpatrick, Athena Karkanis, Stefano DiMatteo
Director: George A. Romero
Release Date:

May 28th, 2010
Synopsis: Survival of the Dead takes place in a desperate, nightmarish world where the dead walk the earth, relentlessly attacking the living. It is the story of Plum Island - a beautiful refuge whose isolation allows two powerful families to maintain a semblance of order in the wake of the zombie holocaust. But as the inhabitants slowly die off, the two clans become sharply divided: The O'Flynns believe that the undead must be destroyed without exception, while the Muldoons insist that afflicted loved ones be kept "alive" until a cure is found.
Status:
Survival of the Dead Movie Trailer
About the Movie
Survival of the Dead is a horror film by George A. Romero which follows some characters who briefly appeared in Diary of the Dead. The film was first released on DVD in the UK on March 15, 2010. That will be followed by a video on demand release on April 30, 2010, followed by a theatrical release on May 28, 2010.
---
'Survival of the Dead' Stars
Alan Van Sprang, Athena Karkanis, Devon Bostick, George A. Romero, Kathleen Munroe, Kenneth Welsh, Richard Fitzpatrick, Stefano DiMatteo
---
'Survival of the Dead' Movie Links

Official Survival of the Dead Movie Website


Survival of the Dead on IMDb