---
The Boat That Rocked (2009)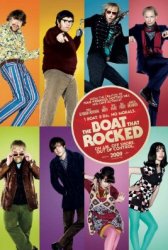 Starring: Philip Seymour Hoffman, Tom Sturridge, Bill Nighy, Rhys Ifans, Nick Frost, Kenneth Branagh, Jack Davenport, Emma Thompson
Release Date:

November 13th, 2009
Release Date:

1st April, 2009
Synopsis: The Boat That Rocked is an ensemble comedy in which the romance takes place between the young people of the '60s and pop music. It's about a band of rogue DJs that captivated Britain, playing the music that defined a generation and standing up to a government that, incomprehensibly, preferred jazz. The Count, a big, brash, American god of the airwaves; Quentin, the boss of Radio Rock – a pirate radio station in the middle of the North Sea that's populated by an eclectic crew of rock and roll DJs; Gavin, the greatest DJ in Britain who has just returned from his drug tour of America to reclaim his rightful position; Dave, an ironic, intelligent and cruelly funny co-broadcaster; and a fearsome British government official out for blood against the drug takers and lawbreakers of a once-great nation. Radio Rock's controversial on-air antics ruffle the feathers of a government minister, who finds a way to take down the pirate radio, despite its popularity among the pop hungry masses.
Status:
The Boat That Rocked Movie Trailer
About the Movie
The Boat That Rocked (retitled Pirate Radio for US release) is an ensemble comedy film, released in the UK on 1 April 2009 and currently scheduled for a US release on 6 November 2009. Set in 1966, it tells a story about a fictitious pirate radio station broadcasting from a ship to the United Kingdom. The film was written and directed by Richard Curtis and made by Working Title Films for Universal Pictures. Principal photography started on 4 March 2008 on location off the southern English coast and ended in June 2008.
---
'The Boat That Rocked' Stars
Bill Nighy, Emma Thompson, Jack Davenport, Kenneth Branagh, Nick Frost, Philip Seymour Hoffman, Rhys Ifans, Richard Curtis, Tom Sturridge
---
'The Boat That Rocked' Movie Links

Official The Boat That Rocked Movie Website


The Boat That Rocked on IMDb