---
The Collector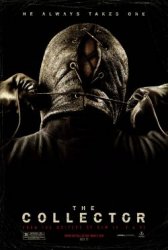 Starring: Josh Stewart, Michael Reilly Burke, Andrea Roth, Juan Fernández, Karley Scott Collins, Daniella Alonso
Director: Marcus Dunstan
Release Date:

July 31st, 2009
Release Date:

25th June, 2010
Synopsis: When the Chase family moves to an isolated house in the middle of nowhere in Detroit, Arkin is hired to fix the windows and the doors. Later he meets his daughter and his wife that has a debt with dangerous sharks and needs money, but his week payment is not enough to pay her debts. Arkin plots to heist the safe of Michael Chase during the night to raise the necessary money. However, when he arrives in the house, he finds that a sadistic criminal has imprisoned the family and planted traps everywhere.
Status:
The Collector Movie Trailer
About the Movie
The Collector is a 2009 American horror film written by Marcus Dunstan and Patrick Melton and directed by Marcus Dunstan. Originally titled The Midnight Man, the script was originally intended to be a Saw prequel, but the producers were against the idea and quickly dismissed it.
---
'The Collector' Stars
Andrea Roth, Daniella Alonso, Josh Stewart, Juan Fernández, Karley Scott Collins, Marcus Dunstan, Michael Reilly Burke
---
'The Collector' Movie Links

Official The Collector Movie Website


The Collector on IMDb