---
The Day the Earth Stood Still (2008)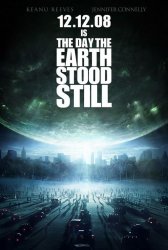 Starring: Keanu Reeves, Jennifer Connelly, Jon Hamm, Kathy Bates, John Cleese, Brandon T. Jackson, Jaden Smith, James Hong
Director: Scott Derrickson
Release Date:

December 12th, 2008
Release Date:

12th December, 2008
Synopsis: The remake of The Day the Earth Stood Still will supposedly remain true to the original movie. However, there is a chance the remake will more likely remain true to the short story upon which the 1951 movie is based. In either case, the alien weaponry seems to have been upgraded. In addition to a city going dark, and a very brief look at the new Gort, the film trailer shows a cloud of black smoke, capable of rapid movement and disintegrating matter on contact.
Status:
The Day the Earth Stood Still Movie Trailer
About the Movie
The Day the Earth Stood Still is a 2008 American science fiction film, a loose remake of the 1951 film of the same name. The screenplay is based on the 1940 classic science fiction short story "Farewell to the Master" by Harry Bates and the 1951 screenplay adaptation by Edmund H. North, although Bates' name is missing from the credits. Directed by Scott Derrickson and starring Keanu Reeves as Klaatu, the film updates the Cold War theme of nuclear warfare to the contemporary issue of humankind's environmental damage to the planet. It follows Klaatu, an alien who was sent to try and change human behavior or eradicate them from Earth.
The film was originally scheduled for release on May 9, 2008 but was released on a roll-out schedule beginning December 12, 2008, screening in both conventional and IMAX theaters. The critical consensus on Rotten Tomatoes was mostly negative; typically the film was found to be "heavy on special effects, but without a coherent story at its base." During its opening week the film took top spot at the U.S. box office and has since grossed over $230 million worldwide. The Day the Earth Stood Still was released on home video on April 7, 2009.
---
'The Day the Earth Stood Still' Stars
Brandon T. Jackson, Jaden Smith, James Hong, Jennifer Connelly, John Cleese, Jon Hamm, Kathy Bates, Keanu Reeves, Scott Derrickson
---
'The Day the Earth Stood Still' Movie Links

Official The Day the Earth Stood Still Movie Website


The Day the Earth Stood Still on IMDb