---
The Hole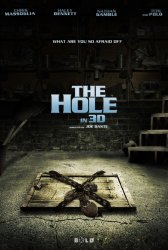 Starring: Chord Overstreet, Teri Polo, Haley Bennett, Chris Massoglia, Bruce Dern, Nathan Gamble
Director: Joe Dante
Release Date:

22nd September, 2010
Synopsis: A family fleeing from their past find protection and shelter in a supposedly abandoned house, when a pair of brothers stumble upon a mysterious hole in the basement that leads to the darkest corridors of their fears and nightmares. The mystery of the deep and all-consuming darkness will be revealed soon and out do all the horrors.
Status:
About the Movie
The Hole 3D is a Thriller film directed by Joe Dante and stars Teri Polo, Chris Massoglia and Haley Bennett.
---
Movie Reviews
Movie Review from EmpireOnline.com

Given that 2010 cinema has spent much of its time revisiting prime cuts of '80s ephemera, from literal remakes (Clash Of The Titans, The Karate Kid) and TV riffs (The A-Team, MacGruber) to spins on favourite genres like time-travel comedy (Hot Tub Time Machine) and meathead action (The Expendables), it was perhaps only a matter of time before we got to The Suburban Kids Go On An Adventure movie. Enter The Hole, the kind of family-friendly horror flick that 25 years ago may well have worn an Amblin logo.

Read the Full Movie Review at EmpireOnline.com
Movie Review from TotalFilm.com

There's a hole in the cellar of your new house. You don't know what's at the bottom but you think it might just be something alive. Or possibly dead. Or maybe even undead. Brilliant! Best summer holiday ever. Joe Gremlins Dante's best feature since 1998's Small Soldiers (and his first since '03's Looney Tunes: Back In Action) is a teen exploit scary enough to thrill adult genre fans, but still safe enough for hardy young 'uns – a perfect My First Horror to inspire a new generation of sick puppies.

Read the Full Movie Review at TotalFilm.com
Movie Review from Telegraph.co.uk

After moving into the their new home with their single mum (Teri Polo), two brothers (Chris Massoglia, Nathan Gamble) discover a mysterious hole in the basement. When they let their next-door neighbour (Haley Bennett) in on the secret, she's impressed: "You've got a gateway to hell under your house and that is really cool." Then bad things start to happen. Director Joe (Gremlins) Dante delivers some terrific spine-tingling chills on the way towards a disappointingly overblown climax.

Read the Full Movie Review at Telegraph.co.uk
---
'The Hole' Stars
Bruce Dern, Chord Overstreet, Chris Massoglia, Haley Bennett, Joe Dante, Nathan Gamble, Teri Polo
---
'The Hole' Movie Links

Official The Hole Movie Website


The Hole on IMDb