---
The House Bunny (2008)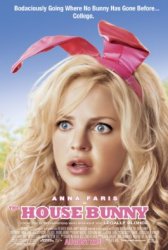 Starring: Anna Faris, Colin Hanks, Emma Stone, Kat Dennings, Dana Goodman, Katharine McPhee, Rumer Willis, Owen Benjamin, Christopher McDonald, Beverly D'Angelo
Director: Fred Wolf
Release Date:

August 22nd, 2008
Release Date:

10th October, 2008
Synopsis: When Shelly, a Playboy bunny, is tossed out of the mansion, she has nowhere to go until she falls in with the sorority girls from Zeta Alpha Zeta. The members of the sorority, who also have got to be the seven most socially clueless women on the planet, are about to lose their house. They need a dose of what only the eternally bubbly Shelley can provide. But they will each learn on their own to stop pretending to be what others want them to be and start being themselves.
Status:
The House Bunny Movie Trailer
About the Movie
The House Bunny is a 2008 American romantic comedy film, directed by Fred Wolf. The film was written by Legally Blonde screenwriters Kirsten Smith and Karen McCullah Lutz. The film had its US theatrical release on August 22, 2008 and stars Anna Faris, Katharine McPhee, Colin Hanks, Kat Dennings, and Emma Stone. It is the second film directed by Wolf. The DVD and Blu-ray Disc was released on December 16, 2008. Faris stars as Shelley Darlington, a former Playboy bunny who signs up to be the new house mother at a university sorority after becoming too old for Playboy standards.
---
'The House Bunny' Stars
Anna Faris, Beverly D'Angelo, Christopher McDonald, Colin Hanks, Dana Goodman, Emma Stone, Fred Wolf, Kat Dennings, Katharine McPhee, Owen Benjamin, Rumer Willis
---
'The House Bunny' Movie Links

The House Bunny on IMDb