---
The Last Exorcism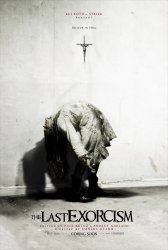 Starring: Patrick Fabian, Ashley Bell, Iris Bahr, Louis Herthum, Caleb Landry Jones, Tony Bentley
Director: Daniel Stamm
Release Date:

August 27th, 2010
Release Date:

3rd September, 2010
Synopsis: When he arrives on the rural Louisiana farm of Louis Sweetzer, the Reverend Cotton Marcus expects to perform just another routine exorcism on a disturbed religious fanatic. An earnest fundamentalist has contacted the charismatic preacher as a last resort, certain his teenage daughter Nell is possessed by a demon who must be exorcized before their terrifying ordeal ends in unimaginable tragedy. It is soon clear that nothing could have prepared him for the true evil he encounters there.
Status:
The Last Exorcism Movie Trailer
About the Movie
The Last Exorcism is an upcoming horror film directed by Daniel Stamm. It stars Patrick Fabian, Iris Bahr and Louis Herthum.
---
Movie Reviews
Movie Review from EmpireOnline.com

This mock-documentary produced by Eli Roth engages instantly thanks to an interestingly conceived lead character and a charismatic performance. Inspired by Marjoe, a 1972 documentary about fundamentalist hucksterism (a forerunner of the current trend for non-fiction editorialtainment), Patrick Fabian plays Cotton Marcus as a super-smart, glib talker who puts on a good show and has only just started to believe that performing exorcisms might be harmful to his troubled subjects. Blair Witchiness creeps in at the Sweetzer farm, where a hostile brother (Caleb Jones) backs off only when he sees the exorcist for a fake — a creepy idea which resonates later — and a Christian father (Louis Herthum) simmers with the potential to harm his daughter for her own good.

Read the Full Movie Review at EmpireOnline.com
Movie Review from TotalFilm.com

At last, a possession movie for lapsed horror acolytes to believe in.
Indie director Daniel Stamm's intense slow-burner threads re-jigged exorcism basics through another oft-abused genre, the mock-doc and scares up smarts and scares to refresh both.
Easy genre regurgitations (pea soup) are cast out: this little devil delivers wicked new head-spins. Cleverly, the documentary thrust is doubly driven: by character and by a need to disarm doubting viewers.

Read the Full Movie Review at TotalFilm.com
Movie Review from Hollywood.com

The faux-documentary, "cinema verite" camera style is increasingly prevalent in horror flicks these days, and not just because the technique enables budget-conscious genre filmmakers to expend fewer resources on things like locations, lighting, and visual effects. When done convincingly, as in the surprise blockbuster Paranormal Activity, it adds an element of chilling authenticity that can dramatically enhance otherwise weak or derivative material. When done poorly, as in the hokey alien-abduction thriller The Fourth Kind, it comes off as little more than a cheap cinematic trick.

Read the Full Movie Review at Hollywood.com
Movie Review from TimeOut.com

Daniel Stamm's frustrating faux-documentary about a charlatan exorcist confronted by a seemingly genuine case of demonic possession sustains its intriguing conceit until the last ten minutes, when a contrived generic ending pops up out of nowhere and erases all of its troubling ambiguities. It's a crushing disappointment as the intimate immediacy of the preceding scenes is emotionally involving, psychologically disturbing and often downright terrifying.
The Reverend Cotton Marcus, a charismatic evangelical preacher who has lost his faith, invites a documentary film crew to record and expose the truth about his final 'exorcism'.

Read the Full Movie Review at TimeOut.com
Movie Review from Movies.com

This low budget faux-documentary horror pic, produced by Eli Roth, is cleverly conceived, features strong central performances, and builds an effective slow-simmering tension that'll have you squirming in your seat in anticipation of the scares that surely do come. Its central character, Rev. Cotton Marcus, is a fascinating piece of work — a glib, cocky, and shamelessly faithless man of the cloth more akin to a sideshow barker or a preening magician — made utterly watchable by Patrick Fabian's deft performance. In truth, The Last Exorcism does a lot right leading up to its big finale… which is where, unfortunately, it gets everything wrong. Last-act shenanigans devolve into silly theatrics, the camerawork cribs from the Blair Witch playbook, and noticing those quibbles gets you thinking more and more about the film's other nagging issues that you'd happily overlooked up to that point in the service of being freaked out.

Read the Full Movie Review at Movies.com
---
'The Last Exorcism' Stars
Ashley Bell, Caleb Landry Jones, Daniel Stamm, Iris Bahr, Louis Herthum, Patrick Fabian, Tony Bentley
---
'The Last Exorcism' Movie Links

Official The Last Exorcism Movie Website


The Last Exorcism on IMDb