---
The Last House on the Left (2009)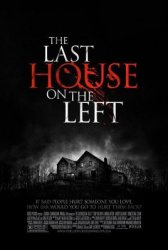 Starring: Monica Potter, Sara Paxton, Garret Dillahunt, Martha MacIsaac, Tony Goldwyn, Spencer Treat Clark, Riki Lindhome
Director: Dennis Iliadis
Release Date:

March 13th, 2009
Release Date:

12th June, 2009
Synopsis: The night she arrives at the remote Collingwood lakehouse, Mari and her friend are kidnapped by a prison escapee and his crew. Terrified and left for dead, Mari's only hope is to make it back to parents John and Emma. Unfortunately, her attackers unknowingly seek shelter at the one place she could be safe. And when her family learns the horrifying story, they will make three strangers curse the day they came to The Last House on the Left.
Status:
The Last House on the Left Movie Trailer
About the Movie
The Last House on the Left is a 2009 American film directed by Dennis Iliadis and written by Carl Ellsworth and Adam Alleca. It is a remake of the 1972 film of the same name, and stars Tony Goldwyn, Monica Potter, Garret Dillahunt, and Sara Paxton. The film follows the parents (Goldwyn and Potter) of Mari Collingwood (Paxton), who attempt to get revenge on a group of strangers, led by a man named Krug (Dillahunt), that have taken shelter at their home during a thunderstorm. The Collingwoods discover that the Krug and his group have shot their daughter and left her for dead.
The film rights were picked up by Rogue Pictures in 2006, with the remake being the first film produced by Wes Craven's new production studio Midnight Pictures. Craven, who wrote and directed the 1972 original, was interested to see what kind of film could be produced on a large budget, as the limited funds in 1972 forced him to eliminate scenes he had wanted to film to tell a complete story. Alleca's original script included elements of the supernatural, which prompted the studio to reject it and bring in Ellsworth to perform a rewrite. One of the elements director Iliadis wanted to avoid with this film, given its graphic nature, was turning it into torture porn—a sub-genre of horror popularized by the Saw franchise. For Craven and Iliadis, The Last House on the Left primarily illustrates how even the most normal of families can be driven to evil acts if pushed too far.
The film was released on March 13, 2009, and took the top spot away from Watchmen with $5.6 million in weekend revenue. The Last House on the Left was met with mixed reviews from critics, with Dillahunt's performance often praised and the rape sequence criticized as being too realistic to handle. Audience opinion ranked the film at a "B" level, from a scale of "A to F"; the film would ultimately gross approximately $45 million worldwide.
---
'The Last House on the Left' Stars
Dennis Iliadis, Garret Dillahunt, Martha MacIsaac, Monica Potter, Riki Lindhome, Sara Paxton, Spencer Treat Clark, Tony Goldwyn
---
'The Last House on the Left' Movie Links

The Last House on the Left on IMDb