---
The Pink Panther 2 (2009)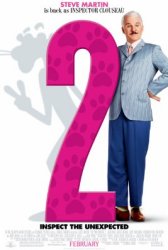 Starring: Steve Martin, Jean Reno, Emily Mortimer, Andy Garcia, Alfred Molina, John Cleese
Director: Harald Zwart
Release Date:

February 6th, 2009
Release Date:

13th February, 2009
Synopsis: After having been rewarded for solving the mystery of the Pink Panther Diamond, inspector Jacques Clouseau has been assigned to minor tasks by his boss inspector Dreyfus so as not to have him in his way anymore. Unfortunately, the famous diamond has once again been stolen as have many other artifacts in a series of burglaries around the world. His past success will enable inspector Clouseau to be part of the dream team comprised of the greatest detectives of the affected countries, where he will be able to display his numerous talents across the world.
Status:
The Pink Panther 2 Movie Trailer
About the Movie
The Pink Panther 2 is a 2009 detective comedy film directed by Harald Zwart. It is the sequel to the 2006 film The Pink Panther, a reboot of the popular comedy series. The film was released on February 6, 2009 in North America. In the film, Inspector Clouseau must team up with detectives from other countries to rout the daring cat burglar, The Tornado, who has returned after a decade of inactivity. Steve Martin, who reprised the role of Clouseau, originated by Peter Sellers, polished the original script written by Scott Neustadter and Michael M. Weber in November 2006. Columbia Pictures, partnering with MGM on the sequel, hired the team of Lowell Ganz and Babaloo Mandel to perform a further rewrite in January 2007. Principal photography began in Paris on August 20, 2007, then moved to Boston several weeks later, where filming ended on November 2, 2007.
Bollywood actress Aishwarya Rai appears as the criminology expert, Sonia Solandres. John Cleese replaces Kevin Kline as Chief Inspector Dreyfus with Jean Reno and Emily Mortimer reprising their roles as Clouseau's partner Ponton and Clouseau's girlfriend Nicole. Andy García, Yuki Matsuzaki and Alfred Molina round out the cast as detectives, Inspector Vicenzo Brancaleone, Inspector Kenji Mazuto and Chief Inspector Randall Pepperidge. It was released on Blu-ray and DVD on June 23, 2009.
---
'The Pink Panther 2' Stars
Alfred Molina, Andy Garcia, Emily Mortimer, Harald Zwart, Jean Reno, John Cleese, Steve Martin
---
'The Pink Panther 2' Movie Links

Official The Pink Panther 2 Movie Website


The Pink Panther 2 on IMDb